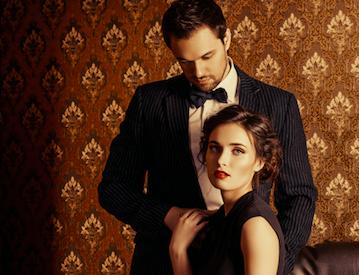 When dating a lawyer, there is a certain set of skills and principles to understand about your partner, and about the profession as a whole.
What is it like dating a lawyer?
If you're looking for a relationship with a lawyer, there are a few factors that may help you set expectations from the get-go, so that you're fully briefed on what you're getting into.
While yes, lawyers are human, here are a few idiosyncrasies to note about the profession and about the professional singles that live for the law.
Here's 7 Things to Know Before Dating a Lawyer
1. There's always more work to be done
The two most important words to know about a lawyer and their relationship to time and money: billable hours. If they're not working on the clock, they're not getting paid. This means that unlike some automated income streams, a lawyer's time is being traded for dollars. This payoff can be huge, of course, but it's at the expense of quality time spent elsewhere, such as date night.
2. Lawyer personalities are not subtle
This is a wonderful thing. For a lawyer, personality skills and weaknesses can quickly reveal growth opportunities for skills that need crafted. This process starts in law school where a person is evaluated on their potential for being "lawyer material." For a person dating a single lawyer, there will likely be few question marks about the type of person you're involved with. If you like what you see, you're probably getting a cold-hard dose of the real person you're dating, not always a guarantee in budding romances.
3. Being a lawyer doesn't make a person scummy…
Being a scummy person does. It is not part of the curriculum at law school, nor is it a requirement on the bar exam, that to be an effective lawyer you have to be a jerk. However, if you were a jerk before, law school will certainly bring out more of the same. As with any career field, there are all types of people that are attracted to the profession for all sorts of reasons. Some of those people are jerks. As mentioned above, lawyer personalities can be about as subtle as a gunshot, so if you're catching an off-putting vibe from your date, it's not simply because they're a lawyer, it's just who they are.
4. Detail matters in every situation
In the courtroom, there's order and decorum. All the players know their roles and expectations are clear. The type of thinking required to excel in that environment can be a bit trying in daily life. Lawyers are direct, and have a sense of clarity about what they want. For those closest to them, including a person dating a lawyer, this meticulously detailed lifestyle can be challenging. The very same attributes that make a lawyer shine in the courtroom may be to the detriment of personal intimacy.
5. Latin phrases are not the only words they know
All professional singles have words and phrases that may sound like gibberish to an outsider. Learning the lingo comes with the territory. When dealing with the law, the lingo happens to be primarily Latin-based, however it's an overgeneralization to paint all lawyers as Latin-dropping fanatics. One lawyer, Stacy Becker, had this to say about this stereotype, "Many people picture dating a lawyer as sitting across the table from someone going into a rant about their argument in their legal brief about the qui tam provisions of the False Claim Act while they've rolled their eyes and fallen asleep. In truth, many lawyers would love to talk about anything but the law."
6. Arguing with a lawyer is an impossible feat
Okay, so it's not impossible, but when a major tool in a single lawyer's toolbox is to formulate an argument on how to be "right," it's a tall order to defy. Stand up comic Jani Tillery, who is a lawyer by day, shares, "Guys don't get my mindset. I had a guy say to me once, 'Jani, you think just because you're a lawyer, you think you're always right.' Yeah! What is so hard about that?"
7. Lawyers are not all greedy, selfish hustlers
This is probably the biggest stereotype out there around lawyers, whether you're dating one or not. This is what makes the good TV – the ambulance chaser careening around the corner across a busy intersection, briefcase sliding across the dashboard, cheap suit flapping in the wind, greasy, slicked back hair quickly being combed by greedy little fingers because the chase is on. This is what gets perpetuated on screen because it's dramatic, completely at odds with the far more common and true-to-life lawyer that works hard to provide for themselves and their family. If the lawyer you're dating is acting like a selfish hustler, it's probably because they're a hustler at heart that happens to be a lawyer.
Interested in dating a lawyer or other successful, professional singles? Millionairematch.com celebrates and embraces successful people, designed specifically for successful and attractive singles looking for a serious, long-term relationship.