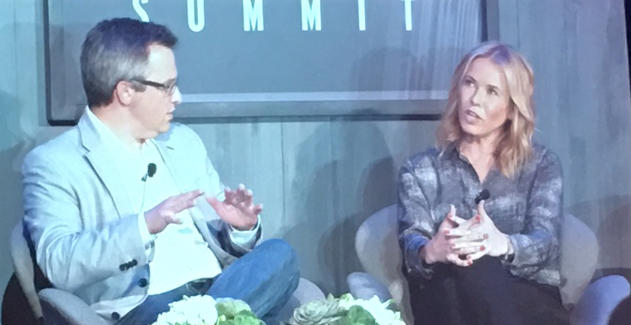 Variety's Entertainment and Tech Summit sent hundreds of professionals to the Four Seasons Hotel in Beverly Hills for a day of panels and intimate conversations. Top content creators and heads of digital divisions offered their angled opinions of how technology is changing entertainment. MillionaireMatch was there and we are sharing some hilarious moments with the summit's closing speaker, Chelsea Handler.
A total of 15 topics were covered at this year's summit including keynote speeches from Mark Greenberg (CEO, Epix) and Eric Berger (Co-Editor-in-Chief, Crackle). A range of information was shared about using social media as a platform to distribute content versus television, how live streaming is attracting more and more people, monetizing videos and how television is fighting for a younger viewership. The top television executives from places like Spike TV, Simulmedia, Sony Pictures Entertainment, and Yahoo were just a handful of those represented on the panel.
The big closing was led by Andrew Wallenstein (Variety, Co-Editor-in-Chief) as he posed questions about Handler's new home, Netflix. Handler's experience with Netflix has been very different from her days at E! "Netflix doesn't give specific notes. They just give general notes like, we like when you do that," she said. This new found freedom has been quite enjoyable for the former comedian. The day isn't molded by the need to get ratings as it was before. Handler explained, "I don't get the ratings every day, and I feel like I prefer that."
Being on a digital platform has introduced Handler to using other platforms to connect with her audience. Snapchat has been her new favorite way to connect and give her audience more Chelsea. Handler said of she wasn't too fond of the need to be on Snapchat or Instagram. She said, "I slipped into that more easily than I thought I would." She continued, "Don't bitch and moan about what you're doing. Just do it and have a positive attitude about it."
The comedian-host said that her interest has turned to politics. It has become a huge interest of hers, especially with this election. "I don't know if I want [Donald Trump] to go away. It's kinda great to have a person like that. That represents everything that's wrong," Handler says as laughs fill the room. "It's great to look at someone and think, that's the worst thing that can happen," she continued.
Handler goes on to comment on other political news such as Roger Ailes joining the Trump campaign and sexism. Handler said she wanted to focus on more serious topics on this new platform. The show even partnered with Rock the Vote. "I get politics, and I'm more thirsty than I've ever been about it," she said. "I'm interested in talking to people that are smarter than me. It's a big group," jokingly she added.
On getting guests for the show, Handler spoke about it being a little difficult and competitive. "Yes. They're all assholes about it," she commented on getting guests booked. Mimicking celebrities, "I can't go on Chelsea first. She's new. I was on TV for 8 years. I'm just back," Handler said.
Yes, she is definitely back and we love every minute of it. We look forward to seeing more of Chelsea and we know that you do too.