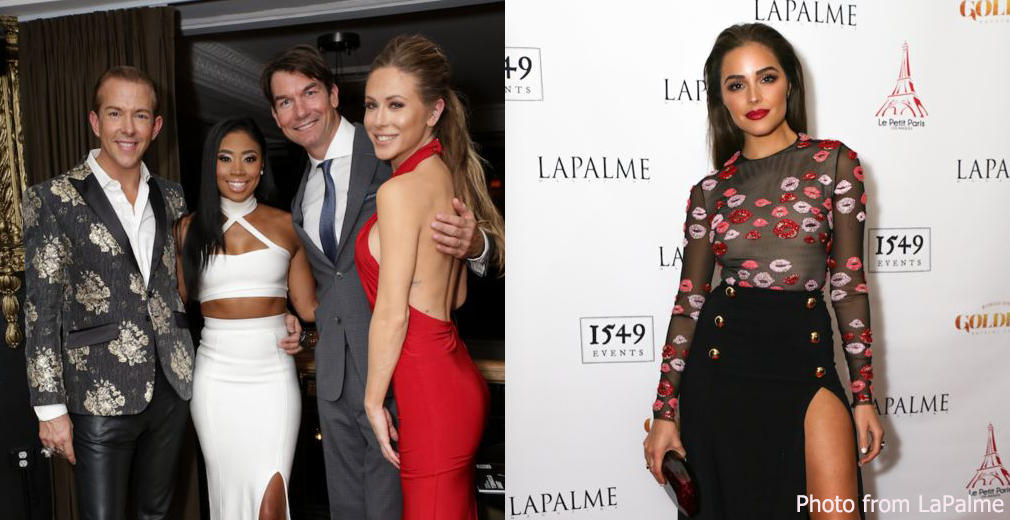 The quarterly magazine, LaPalme, celebrated their fall issue with cover stars Jerry O'Connell and Olivia Culpo at Le Petit Paris in Downtown Los Angeles. Tahj Mowry, Ariane Andrew, Jessica Hall, Kareem Rush, and Ricky Rebel attended the red carpet event making a fashionable statement.
The magazine, which launched in July 2013, covers all things fashion and beauty with "deep rich color photography". Co-Founder and Creative Director, Derek Warburton, has worked as a celebrity stylist for television shows including The Real Housewives of New York City. The magazine is named after Co-Founder, Kevin LaPalme.
MillionaireMatch was curious to know what was everyone's go-to item for the fall. "I love things that shimmer and shine," said Ricky Rebel as he wore a peep-hole metallic jumpsuit that complimented his royal blue hair. He described his personal style to be "larger than life. Glamorous."
We weren't surprised when the WWE Star, Ariane Andrews said, "I make my own trends. I don't really follow them." She also said she likes the colors black and white. For fall, she looks forward to wearing a nice leather jacket.
Tahj Mowry, who stars in the hit show Baby Daddy, said that even though it doesn't really get cold in Los Angeles he was happy to break out his leather motorcycle jacket. "Trenches, boots, and a t-shirt," said Mowry regarding his go to look for the fall. He also loves to mix vintage pieces with a few popular fashion labels. Mowry is the brother to Tia and Tamera Mowry.
Recording artist, Kristine Elezaj, shared with us her fall fashion must-have. "I like to layer. I always go for a good coat. A nice light, fun, sexy coat," she said. Meanwhile, TV personality, Jessica Hall, said she stays pretty comfortable and conservative since having a baby.
Kearran Giovanni (TNT, Major Crimes) said she was just changing up her style for the cool weather, but her make-up too. "You've got to winterize your eyewear. Get deeper, darker with it. Maybe a little bit chunkier," she said. We also asked about her personal style and if she leaned towards a Kim K. or Michelle O. look. "Is it Thursday night or Saturday night? I think it depends on the occasion. You want to go classy, but sometimes you want to go sassy," added Giovanni.
Cover star, Olivia, talked to Warburton about her upcoming NFL fashion collaboration. She said, "I was excited to put my personal flair on sportswear!" Not only is she starting her own fashion sports line, but she soon will be opening an Italian restaurant.
Jerry, on the other hand, has been busy co-hosting with Kelly Ripa on "Live with Kelly". There may be a possibility of him being a permanent face on the show.
Fashion wasn't the only thing talked about on the red carpet. Many had quite a few opinions about the upcoming election. "I'm excited about the election. I've become more political than I've ever been," Ricky Rebel said. Mixed feelings and the hope that the right choice will be made come November 8th was the overall expression. "I honestly can't wait until it's over," Giovanni said.
LaPalme magazine can be purchased both in print or digitally.