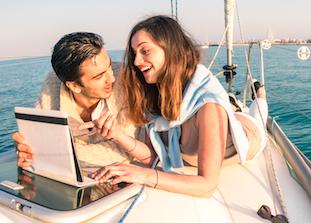 Summer dating in New York is on the minds of those looking for love. Did you know that one in every twenty-one people in New York is a millionaire? While this seems to make the odds of your finding a loving millionaire easy, New York millionaires do not show their net worth by carrying a sign on their backs. So how will you find the New York millionaire "love of your life?" Millionaire dating in New York City is an art form and you have to do your homework if you want to put yourself in the center of the action, and improve the odds of a successful match.
New York attracts many millionaires because of business and cultural offerings. To find a millionaire partner in the competitive New York millionaire-dating scene, put yourself in the right place at the right time. Start with grooming. Whiten your teeth or get invisible braces to straighten them. Get a great haircut, always have clean hair and pay close attention to achieving an impeccable personal presentation.
Millionaires know correct etiquette and protocol. This may be much different in New York than in someone else's country of origin. You have to make a great impression. You have to stand out from the crowd. Perhaps hire a personal shopper or an experienced New York "Life" or "Dating Coach" for a few sessions, and get ready for the hunt?
Go to specific upscale areas where single New York millionaires hang out. Well-dressed people are always welcomed and can usually get in to elite and trendy restaurants, clubs and bars. Do not drink too much alcohol and pace yourself with water or a non-alcoholic cocktail. You must stay sharp to beat out the competition.
Try to fit in and get to know the bartenders, bouncers and managers. They will already have information as to who is single and who is looking, and which "type" of date these millionaires want. And, always tip the people who can help you. Always. Think of tips (gratuities) as part of your investment in your millionaire search. Tipping buys some information and favors not only from dating coaches but also from restaurant and club staff. They will appreciate you if you appreciate them.
Present yourself as polished and do not appear gaudy. Do not overdo hair, make-up or clothes. Remember that less is more and millionaires want to be able to show off their dates as hot, but not for sale.
New York is full of busy people. It is a great town in which to have fun, but the most reliable way to meet and chat with single New York millionaires is to find a proven New York millionaire dating site with a track record of helping people with lots of money find the loves of their lives. The right online millionaire-dating site will save you the time and mystery of the initial search process. Make the best use of your efforts by looking for love on a site where you can find someone who shares your values and interests.
A big trend in millionaire dating is that New York millionaires want their new significant others to fit in wherever they go. Dates must be well spoken, have perfect table manners, be able to initiate conversations and be informed as to current events and market trends. Do not be too focused on religion or politics. Be interested in your partner's opinion. You don't have to be an expert, but you must be able to be conversant and comfortable in New York millionaire hangouts and parties.
Where do millionaires like to go? - auctions, fundraisers and charity events. These venues are a great way to meet millionaires. New York millionaires are usually cultured and worldly, so do your homework. Be educated on the topics. Have confidence and know that you belong. If you can contribute, you will instantly increase your upscale social network.
Do your homework and find out what New York millionaires are wearing in The Hamptons or in corporate boxes at Yankee games. Places such as casinos and racetracks do not require you to be a genius, just very enthusiastic, so you may want to explore the gaming world.
Speaking of games, golf is one of the most popular games for New York millionaires. See whether you can go to a "driving range" or get invited to someone's club for a golf lesson. You will have great luck hanging out at a golf club bar or luncheon café after having hit a few golf balls. Again, do not drink too much alcohol. Stay sharp.
New York millionaire singles can be found working in multi-national corporations. Keep up with events and lectures where the wealthy go to work and network. Get yourself on cultural events lists at various international consulates, which hold all types of concerts and lectures. You may make some very rich friends who will in turn introduce you to their millionaire friends and contacts.
These events call for you to keep your wardrobe on the conservative side – a solid colored dress and simple heels, a perfect-fitting suit and very simple jewelry or a watch. One expensive-looking piece implies that you have impeccable taste.
MilionaireMatch.com is the original and most respected millionaire-dating site on the Internet. Dating millionaire singles in New York is a very special niche and MillionaireMatch.com features thousands of members with true success stories. The site requires a thorough verification process for potential members. Millionaires comply with a confidential review of personal financial statements, tax returns and references. All to ensure that New York Millionaire singles can find love and fulfillment.
MillionaireMatch.com has been in business for more than 10 years. The site began with the mission of serving an exclusive and elite clientele of rich and attractive men and women. Clients include CEO's, pro athletes, politicians, doctors, lawyers, investors, successful entrepreneurs, beauty queens, super models and Hollywood celebrities. All of these special people are seeking millionaire dating opportunities and a serious, long-term, committed relationship.