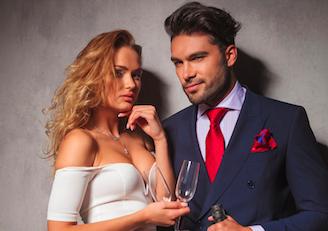 California being the most populous state in the United States and headquarters to three of the largest companies in the world- Apple, Chevron,and Mckesson- possess the 6th largest economy in the world. As a result, California is a home to several single millionaires and definitely one of your best bets to date a millionaire in the US. Despite being filled with several single millionaires, to date rich men in this state can be a herculean task but not impossible. It is quite easy to get caught up in the city's dating whirlwind, but always have in mind, not all the so-called rich men are real so watch out.
How many single millionaires are in California?
California is home to the highest number of millionaires in the United States. This is a whopping 662,735 to be exact and it is the highest by a huge margin when compared to other cities. However, due to its high population, California would have to settle for the ninth position in the list of richest states in the United States ( with a median household income of $61,017 with 5.28% being the percentage of population that are millionaires in the state.
Any special dating habits for California singles?
One major feature of the Californians dating culture is their love to hang out outdoors. Especially with the landscape and beautiful scenery, this certainly does not come as a surprise. In California, the best dates happen outdoors and it usually involves wine tasting, hiking, the beach and lots more. California singles generally have a laid back attitude towards hanging out.
The ideal Californian first dates includes the following:
* A hike by the redwood trees ( this involves panting heavily and deep conversations).
* Wine tasting at a vineyard. This is done primarily to ease the conversation and take off the pressure synonymous with first dates.
* Taking a stroll by the beach as this keeps the conversation flowing.
Where to find single millionaires in California?
Single millionaires in California can be found through several sources which include:
* Millionaire dating sites: There are several dating sites that can help in getting you your dream single millionaire like MillionaireMatch, Zoosk, eHarmony and so on. Spa Resort: Attending the right type of spa in California may be just what you need to find and date a millionaire. Single millionaires looks to get the best relaxation retreats have to offer after a relatively long day. Here, you are more likely to hook up with composed and open single millionaires due to its relaxed environment.
* Millionaire Clubs: This is the ultimate playground of the affluent. They host cocktail parties, celebrations as well as the most elite of gatherings. Getting an invite here means having a full access to lots of single and handsome-looking millionaires. Your options are innumerable, so be patient and take your time to pick out your choice.
* Movie Premier / After party: Social gatherings that are related to the entertainment industry are usually filled with numerous single millionaires. Getting a ticket to a red carpet event and accompanying party may be just what you need to date rich men. Since the talk time is limited here, you may want to be aware of the attendees well ahead of time in order to be able to separate the men from the boys.
* Auctions: Auctions are a great option when it comes to meeting rich men with extravagant taste for buying collectible arts and antiques. Auctions are open to everybody so feel free to attend. However, there are a few things to note when attending. Auctions are usually attended by older audience plus the very rich men often have representatives or agents bidding in their place. Fortunately, majority of the clientele are so not young and pretty. In other words, competition is considerably reduced.
* Luxury Car Dealership: There is no doubt wealthy customers are attracted by luxury vehicles such as Porsche, Lamborghini, Ferrari among others. These car dealerships usually hold customer appreciation events bringing you a step closer to finding and dating your millionaire match.
Tips to date them?
One thing to note about millionaires is their preference for someone that is does not feel intimidated by them, that is,the word 'millionaire'. Be cool, sincere, calm, down to earth and most importantly, be yourself. Ensure that the conversations of the first few dates are light, avoid talking about failed past relationships, financial problems, politics and other boring topics. Millionaires love to be in control, so give him that but show him you are a woman of your own and you could do pretty good without him. Remember, chemistry comes naturally, so do not force it. You can always get another one if the present does not click. Nothing good comes on a platter of gold, you have to keep on trying till you get your perfect millionaire match.