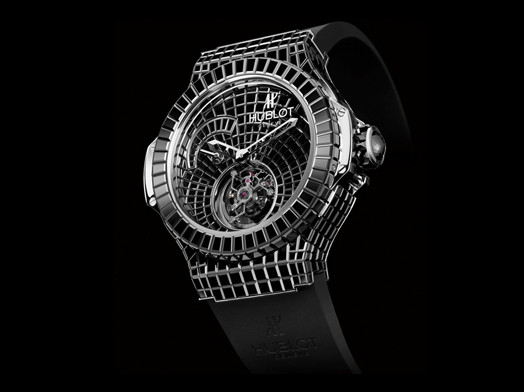 Hublot is known for producing beasty watches, and here comes another million dollar masterpiece. The company has already earned a highly-esteemed name with the Big Bang chronograph and Red Devil Bang chronograph. But this is an entirely new chapter in the history of Hublot. The caviar bang is designed to continue the legacy and is nested with 18K white gold case together with hundreds of black diamonds (their cuttings are amazing, you are going to love the precision). Therefore, it has 34.5 karats.
All diamonds are placed with great precaution such that they offer deep tone to the overall display of the watch. Altogether, the caviar bang possesses 322 diamonds on the case, with 30 are on its clasp and 179 on the bezel. This is probably the most visible and dazzling feature of this flagship watch. However, it is worth mentioning that the Hublot Black Caviar Bang is a limited edition and only one piece is available for sale. (Turns out that it is 'super' limited, right?)
In order to symbolize the smooth and elegant fusion of jewelry and watchmaking, the Hub Solo T tourbillion movement is also incorporated into the design, visible at the beautiful and elegant bottom of the dial. This is the 'head' of the watch, containing 148 components and a massive power reserve of 120 hours. The Caviar Bang, or the monster watch, rests on a black rubber strap, which is again a renowned feature of Hublot's tradition.
Its dial is embedded with rhodium-plated diamond-polished skeleton hands, featuring minutes and hours display. Moreover, there is a power reserve indicator as well, crafted out of the sheer beauty of diamonds.
When such flagships are made, it is essential to think futuristically about their protection. In order to cater to that requirement, sapphire crystal is used with anti-reflection treatment applied on the interior.
Whether you are planning to buy it for yourself or someone very darling to you, the fact that this watch is available as a single piece only will boost up the value of your possession. Hublot knows it pretty well, and that's the reason why the company has limited this latest addition to the million dollar collection to 'just one'!
The CEO of Hublot, Jean Claude has described the watch briefly, yet dishing out a very comprehensive aura. He says that when each element of the watch is prepared separately in the manufacturing process, and its coherence (with the component nested next to it) is delicately taken care of, we get such paragons. It is quite apparent that the intense manufacturing and detail oriented process will result in perfection like this, but it does create a sense of harmony as well. As soon as you wear it, these vivacious details will stimulate the emotions that will run through your bloodstream. That is when you will realize the real worth of this watch.
Hublot took a significant amount of time and passion for building this watch and according to some sources, the total manufacturing time constituted to more than 2000 hours.