In the 21st century, many different aspects of the world have changed and progressed. Dating happens to fit into that category, but so does working as an efficacious independent, as that has become more popular in today's society and many people tend to put career ahead of love. With that being said, it may be hard to balance a successful work life with a happy, confident relationship. But what if you want both? This article will be able to help you make time for your perfect happily ever after without giving up your success.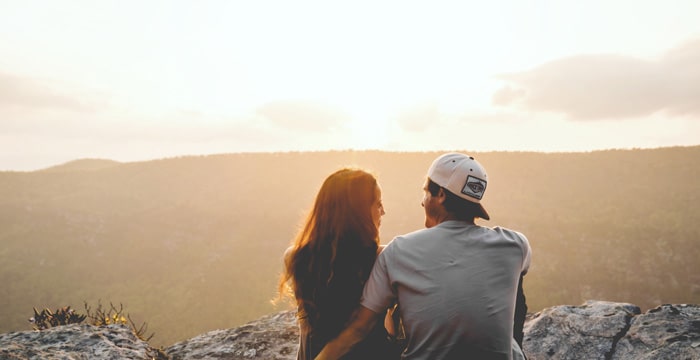 What Does it Mean to Be Successful in Life?
To define it bluntly, success is "the fact of getting or achieving wealth, respect, or fame." Being successful means you are trying to achieve something, and you accomplish it, giving you a proud feeling and sense of accomplishment.
However, to be successful in life is up to each individual person to decide. There is not one right answer, and there are no wrong answers. Every person can define success differently. The real question you have to ask yourself is what makes you happy?
To discover your success, you must relate into your personal life, because although success technically has a definition, it is vague. For example, you may have a lot of money, but does that make you reach true happiness? Or is something else missing from your life, like true love?
The saying, "money can't buy happiness," is cliché, but true. True success in your personal life does not necessarily mean it will be measured by physical things such as money or trophies. It can be if that's what gives you an internal sense of joy, but don't assume it will. It's what you will feel makes you emotionally happy.
You can be wealthy in just more than money. You can be wealthy in love, family, friends, and inner happiness.
How Do Successful Singles Find Love in Today's World?
Online Dating Websites
With today's ever-growing technological advancements, there are so many dating websites that you are sure to find one that matches your needs. Some popular ones include the following:
MillionaireMatch: The largest and most original millionaire dating site since 2001.
Match: One of the first dating websites, serving over 50 countries in 12 languages.
eHarmony: A platform go-to for marriage-minded people looking for serious, long-term commitment.
ChristianMingle: An online dating service that caters to Christian singles.
OKCupid. An internationally operating online dating site featuring multiple-choice questions to match members.  
Dating Apps
Similar to websites, apps are used at the palm of your hand. Your phone gives easy access to creating profiles and finding your future partner. You may have heard of some of these:
Tinder: Best known for its "swipe right" mantra, this app easily lets you scroll through profiles to meet your match.
Grindr: Similar method as Tinder, but for gay men looking for an outlet.
Bumble: In this app, women make the first move and are the ones to message their matches within a certain window of time.
Facebook Dating: This social network also features its own dating feature that focuses on long-term relationships, similar to the long-term friendships Facebook prides itself on.
Her: A dating app meant for lesbian, queer, and bisexual users.
At a Bar
A night out with friends can easily turn to an unexpected rendezvous. Bars are a great place to go be social and meet new people. It's a nonchalant vibe with a drink in hand, so most of your nerves melt away with the liquid courage. And who knows, one of those new people may even turn into your next relationship.
Ask Your Friends
Your friends want you to be happy. You already have so much trust in them; why not trust them in finding you someone to potentially go out with? Their judgment of character is already great because they're friends with you, so put some more faith into them and let them set you up for at least one date.
Attend Local Events
Visiting local events not only gets you more involved with your community, but you also begin to recognize the people who live around you. Try going to a flea market, street fair, carnival, or the opening of a new business in town. This is a great way to meet new people.
Volunteer
Volunteering is a great way to do some good for the community and meet people who also want to do good for their community. If you meet a future significant other there, you already know they have the same interests as you. It's a great start!
Tips on How to Make Time for Dating
Dating today is not easy, especially when you're so focused on succeeding in your life through your career. There may not seem like time to date. But there's always time, you just have to make it. Here are some ways on how:
Prioritize
"I'm busy" is just an excuse. If you're dedicated or passionate about something, you make time for it. Dating is the same. If you're willing to date, you find time. How? Make a conscious decision that dating is going to be a priority in your life, or else you will keep procrastinating.
Prioritizing can also include scheduling date nights in your calendar, so you know not to book anything else for those specific times.
Learn to Be Flexible
If you're a planner, this can seem like a tough call. You are so set in your ways and are on such a tight schedule that flexibility doesn't seem like an option. If this sounds like you, try tricking yourself by "planning" on being flexible. Give yourself time throughout the week as barriers in case something goes unexpectedly. This way you're not stressing about something you didn't see coming.
Set Goals
Many people have a five-year plan for their career, but not many have them for their love life. What is your goal in a certain amount of time? To be married, engaged, have a family? Or is it simply to be in a better emotional state than you currently are in? Setting these goals leads to the intention of doing the action.
You can also go a step further and instead of just saying you're going to do something, make a dream board. Seeing the goals helps to achieve them.
Date on the Go
Kill two birds with one stone by dating as you work through your everyday lifestyle. For example, if you do not have time for a long dinner date, integrate a quick lunch date on your work break. Or, go for a walk together as your source of a workout for the day instead of going to the gym. If you've been dating this person for a while already, you can even take them to run errands with you. Anything to spend as much time with them as possible is helpful when you're "too busy" to date.
Get a Little Help from your Friends
Although you are strong-minded in many things, you are also your own worst enemy. Having a friend hold you accountable and encourage you in the dating scene can help motivate you to actually go on dates.
Your friend will be the one giving you advice and letting you vent about the dating scene. It's helpful to have that reassurance.
Dating is not easy, and you're not expected to be a professional at it. Life does get in the way, and your priorities may not have always been about dating. Combining love life with work-life seems near impossible, but there are ways to make sure you get the beautiful love you deserve while maintaining your strong, successful work life. If you are ready and willing, the rest will follow.