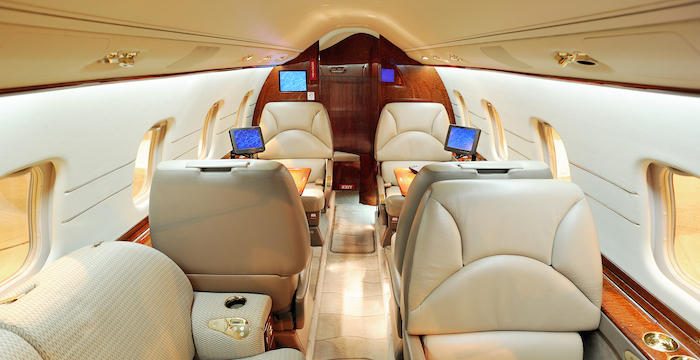 High-end travelers have come to rely on the luxury travel experience provided by Gulfstream, the best private jet money can buy. Since 1958, Gulfstream Aerospace Corporation has produced more than 2,000 innovative private aircrafts, making them the world-class leader in the field of business aviation.
With the recent introduction of a new family of business jets, the Gulfstream G500 and G600, travelers can now experience the comfort and efficiency that has come to be expected from the aircraft line with the best-in-class performance.
For those with a love for travel and a taste for opulence, the Gulfstream G500 and G600 will undoubtedly fit the bill. These ultra long-range aircrafts offer top-of-the-line fuel efficiency and wide cabin comfort that will make your journey the most luxurious you have ever experienced.
Their sleek style and optimized wing design puts them far above the rest with regard to safety and high-lift capability, making the newest additions to the Gulfstream family some of the most reliable and productive private jets on the market.
The G500 will run you $43.5 million, but has the capability to fly 5,000 nautical miles at Mach 0.85 or 3,800 nautical miles at Mach 0.90. With a maximum operating speed of Mach 0.925, you will arrive at your destination in a fraction of the time it would take you aboard an ordinary commercial airline.
Time is our most precious asset, so for the price of $54.5 million you can own your very own Gulfstream G600 capable of traveling 6,200 nautical miles at Mach 0.85 or 4,800 nautical miles at Mach 0.90. The G600 also has a top speed of Mach 0.925, ensuring you have more time to spend doing the important things in life.
Both models feature an all-new Symmetry Flight Deck with10 integrated touchscreens, active control sidesticks, next-generation enhanced vision system, and Honeywell Primus Epic avionics; all of which give the aircraft a high-tech, futuristic feel.
The cabins for the G500 and G600 measure 91 inches wide and 74 inches tall providing wide-cabin comfort for up to 19 very lucky passengers. Both models offer living areas (three in the G500 and four in the G600) and an optional crew rest area, plus a full-sized galley that can be located in either the forward or aft portion of the aircraft. Large oval windows that provide ample natural light, along with quietest cabins in the industry, make for the ideal distraction free environment for work or play.