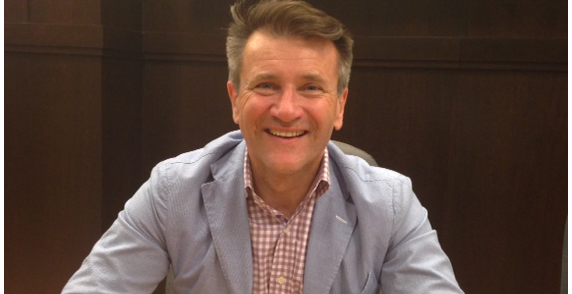 Shark Tank's Robert Herjavec Releases Book On Creating Success: "It's Up to You to Make Yourself Successful."
Robert Herjavec has a life that many people dream about, and his new book, You Don't Have to Be a Shark, offers advice on how a "non-business person" can achieve the American dream. Herjavec is one of the stars on the popular ABC show, Shark Tank. It is the most bought show on network television with 35 episodes last year. MillionaireMatch caught a live conversation on the Shark's current book tour.
Herjavec, known as the nice Shark, has created quite a career for himself. An immigrant from Croatia, he grew up on a farm and was raised by his grandmother. Life was good until he went to school and quickly learning that he was poor. Constantly teased and pushed around, Herjavec says, " I felt like I never fit in like I wasn't strong enough or good at anything. I was always the outsider." These early memories of being picked on were his motivation. "I felt if I made a lot of money one day or just became successful in something, I could really show it to them," he says. Years later, Herjavec drove through his old neighborhood sporting his first fancy car, a Ferrari. Though he admits it was a "stupid" idea because none of his old classmates lived in his hometown anymore, the moment did encourage him to keep going.
He didn't always know he would be successful, but he was sure he didn't want to live the same way he grew up. "Mark Cuban said to me, 'When I was 12 years old, I knew I was going to be rich.' I remember thinking, wow! I didn't know that. I just didn't want to be poor," he explained. Herjavec got his first job working in the film industry as a producer. At 19, he produced the winter Olympics for Canada and later commercials for Kraft. With this first taste of success, he planned to move to Los Angeles and become the next Martin Scorsese. Unfortunately, he couldn't get a job. As bills continued to roll in, he soon found himself in the computer industry. Herjavec had no prior experience in computers but managed to talk himself into getting an interview at a start-up headed by a former IBM president. By age 30, he was one of the top people in the computer industry. This was the start of his financial success.
Today, he has a cybersecurity business that brings in $158 million dollars. He started this business 11 years ago with one office, two employees and $400k in sales. The company now has 300 employees with offices all over the world.
Herjavec also splits his time managing almost 43 companies that he has invested in since being on Shark Tank. One of his favorite investments from the show is a company called Tipsy Elves which started off with making funny Christmas sweaters. The company is projected to bring in $17 million this year.
"What makes someone successful? I think the one thing we can agree on is where people fail in business is typically their inability to absorb failure. In business, you hear the word no and you get rejected way more than you ever win. So, it's your ability to adapt," Herjavec says on the pitfalls of a business. "Great entrepreneurs adapt to the situation. They have the ability to see the wall before they hit it," he continues. As an immigrant, he thinks there is so much opportunity in America. The sky is not the limit. "The thing about being in America, no one cares where you are from. If you can add value, people will give you an opportunity. That's what I love about business in America," he says. Not only is Herjavec a success in business but he has found recent success in love. After going through a divorce, he pushed past his feelings of depression and signed up for a show that would lead him to his current fiancee. He pens in his book, "Kym became more than my partner on the dance floor. She became my source of happiness and joy at a level I had not experienced in a long time." Kym Johnson, who is a professional dancer on the show Dancing with the Stars, was paired with Herjavec. They soon fell for each other. "She was lucky to meet me," Herjavec says jokingly. We look forward to watching them both live a life of love and success.