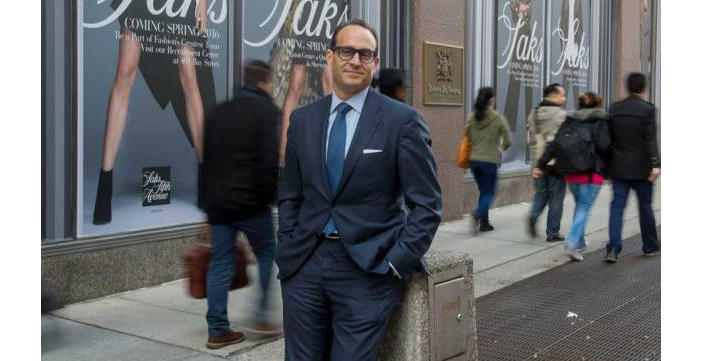 Summer is gone, which means the holiday season is on the way. The retail industry has changed a lot over the years, and cyber deals are happening more often keeping shoppers at home. There are some big box retailers who believe that consumers still enjoy getting out into the rush of the holiday season. Marc Metrick, President of Saks Fifth Avenue, says it's all about giving an experience to the in-store shopper. MillionaireMatch got the scoop on how Saks plans to keep their shopper entertained.
Metrick has been part of the Saks family since 1995. He started in their executive training program shortly after graduating from college, and has held the position of president of Saks since 2015. "I love the power that retail has in people's everyday lives," Metrick said. He loves walking down the street and seeing people wear fashion that was decided on by players like himself months ago. Fashion definitely plays a huge role in the day to day, and now with social media consumers can speak on it. "The consumers for the first time in my career are ahead of us. This is the age of information. As retailers, we use to be able to dictate fashion trends. We would dictate the terms of engagement-this is how you get things, when you get things, the policy on which you can return them. Now, it's almost upside down," said Metrick.
No one can doubt that technology and social media give the consumer a voice and opportunity to influence retailers decisions. In this form, technology is a friend. "We have to be faster, more nimble and agile," Metrick said on keeping up with fast-moving consumers. "It's a lot more challenging, but a lot more fun," he said. "Part of the luxury is all about sharing," he continued noting that allowing consumers to give suggestions is all part of the luxury. The more they listen to the suggestions the more it creates a real experience for shoppers. As Metrick believes, "Authenticity is the new luxury."
Then there is the constant struggle of getting people into the store and making money online. Is there a different strategy for the different types of consumers? "It's about connecting, making it a seamless transition between the offline and the online," he said. "We want to bring you in from Saks.com into the store without the dialogue having to start all over again," he said. They have done so successfully with 75% of their sales being digitally influenced. Another thing Metrick pointed out is that when you do get them in the store it's all about the experience. "You make retail magical by making it about the experience. People don't want to just come in stores to shop, and buy things. They can do that anywhere. Now, you have to make it more entertaining," he said.
Earlier this year, Metrick introduced the "The Wellery" where shoppers could experience sea salt rooms for relaxation or try out gym equipment. In the Saks Men's stores, men can have coffee, and get their shoes shined. They continue to innovate and surprise their consumers.
For those looking to make their mark in retail, Metrick had a little bit of advice. "Having conviction in what we believe in is the best thing we can do," he said. "It is an unbelievably dynamic time in fashion. The industry is embracing new ideas and new talent," he added.
Keep up with the upcoming trends at Saks right here, www.saksfifthavenue.com.