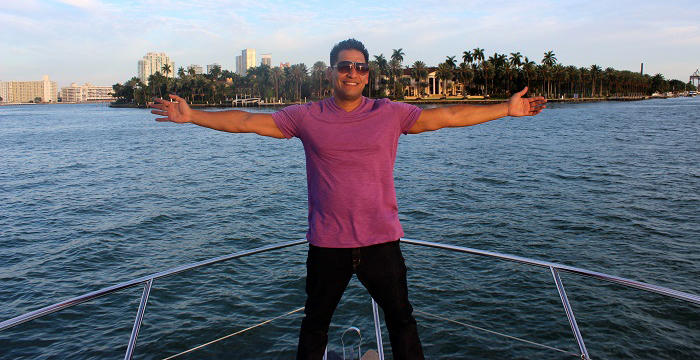 Traveling is a luxury that most of us want more of. What if traveling the world becomes your job? Well, that's what happened to Gil Antolin, founder of Luxury World Traveler. MillionaireMatch talked to him about how he went from losing everything to gaining the whole world.
In 2008, the U.S. began to feel the consequences of a crashing financial market. Layoffs were high, and large companies were closing. Antolin didn't have the luxury of escaping the mortgage crash. His real estate company ended as he lost three of his homes. As if that wasn't enough, this time caused him to lose cars and his fiancé. "I couldn't control what was happening to me personally and financially. It was one of the most helpless feelings I ever had as an adult," Antolin said.
After a push from a friend, to get his mind off of all the things crashing around him, Antolin began to plan a two-week mission trip to Uganda. "Being in Africa felt like I was on another planet," he said. They raised $200k to help orphans get uniforms and school equipment. As a thank you, the children put on a performance for Antolin and the other volunteers. "I just remember the joy that was exuding from these children while singing and performing in the midst of having nothing. So much more joy than I'd seen in people from the U.S." he said. It was an emotional moment for Antolin as he watched them being overjoyed at having Coca-cola for the first time. It was this experience that made two things clear for him. "I realized in an instant how blessed I was, even though I was losing all these material things. I still had more than these people. I had electricity, water, and I had opportunity. I could bounce back. It helped me recover from what was going on. It was an extremely impactful moment in my life, and it forever changed my path in what I wanted to do." Antolin now feels that paying it forward to those who can't pay you back and being able to travel and immerse himself in different cultures are two things that must be part of his life.
Antolin soon started an Instagram page sharing some of his favorite travel spots and places he desired to go. It got to the point he would spend up to six hours a day on Instagram. Speaking of travel, we had to know his top three places to go. We weren't surprised when he said Maldives, Spain and Bali.
Now that Antolin has a successful business, he sees the difference between being a workaholic and doing something you are passionate about. "I was overweight, smoking and stressed out a lot. I was not me. The whole focus was on money. It was still work. I considered it work. When I shifted my mind and started my Instagram account, I hadn't perceived Luxury World Travel as work," he said. Fortunately, Antolin became a travel influencer before influencers were a thing. With just 200k followers, Antolin began to generate revenue in addition to free trips and hotel stays. "One of the things people miss, unless you are a celebrity, your personal page and business page should be separate." Also, having strategic collaborations can help you increase your following faster.
Currently, Antolin is working on his latest business Book Smarter, a travel membership that gives you access to affordable accommodations and way to earn free travel. The business is in beta.
Travel has been a complete paradigm shift for Antolin, and he's ready to take on 2018. He'll be taking on Belize, Dominican Republic, Bora Bora, Laos and Croatia to name a few. "I've never been to a place I didn't enjoy. I think each location has something to offer. That's why I love traveling. It's like a new story with each new place," he shared. To keep track of his adventures, follow him on Instagram @luxuryworldtraveler. Don't worry if you turn green from all the photos, check out booksmartertravel.com for your next travels.