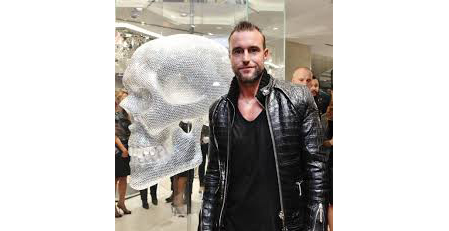 The fashion industry had a rough year in 2016, but according to the McKinsey Fashion Global Index the industry continues to grow. With designers like Philipp Plein, the fashion industry will be worth $2.4 trillion. Plein, a self-taught designer, has alway put his focused on the product. MillionaireMatch got the scoop on how Plein went from law school to fashion legend.
Like many, Plein was too afraid to take the leap into a creative industry. As the son to a doctor, Plein decided to take the stable route by pursuing law. He wasn't able to override the crave to be creative and soon found himself in the basement of his parent's home designing. First, Plein started with furniture and later handbags. Without any formal training, he worked tirelessly. "It was tough. You have to be really self-confident," he described his early years. "I didn't have any clue or idea. I wasn't working for a fashion house or big group. I'm an independent label. Being independent has it's advantages and disadvantages, especially in the beginning. I built something out of nothing. So, in the beginning people didn't believe in me and what I was doing. They never heard of me," he said.
Soon that would not be the case. Lots of hard work, attention to the detail of his product, and creating pieces that are different allowed Plein to stand out. "I was really afraid no one would show up at my first show. Nobody knew who I was," Plein said. His first show was in Milan, an evening show which is a non-peak time during fashion week. Plein decided to include an after-party which is something he still does. It was a huge success and brought visibility to his brand. "It's important to me that people have fun. Fashion is fun," said Plein.
"In the beginning, there was no strategy," Plein said about building his brand. "It's really tough nowadays to create a fashion brand. It's a tough business. In order to be a success, you have to perform," he explained about producing products that stand out. "Our slogan is we are born to be different," said Plein.
He shared a few tips for those aspiring to take over the fashion world in their own special way. "I wasn't able to pay a big salary in the beginning. The people I hired were not professionals. They didn't come from the industry. We learned by doing," he said encouragingly. "You will make a lot of mistakes along the way. As long as you do more things right than mistakes, you keep on surviving," he continued. He also said that when he first started he would ask for money upfront for his products. He learned that in the furniture business. "When you are a young designer, and you put all your money into your collection and going to trade shows for exposure, you need the money. If people don't pay you, how can you survive?" he said.
A long ways from collecting money, Plein has put his focus on retail stores. Philipp Plein stores are around the world from Beverly Hills to Amsterdam. Plein doesn't seem like he will be slowing down anytime soon with building his fashion empire. "You have to dream, and continue dreaming. The dream keeps you going. This is the motivation," he said.
Check out Plein's latest line and hop into one of his stores, www.plein.com