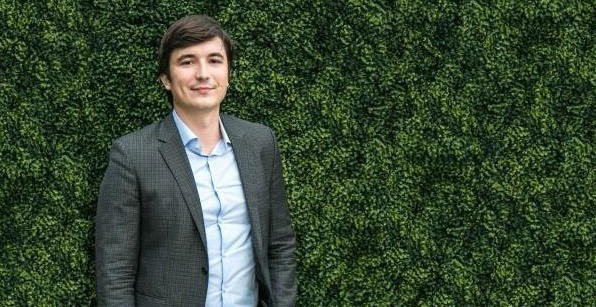 Buying stock has never been as easy as using the app Robinhood. With just a few clicks, you can buy shares right from your phone. Robinhood launched in 2014, and has well over a million users. Created by two Stanford graduates, the app allows customers to trade without paying $7 for each trade. Vladimir Tenev, one of the co-founders of Robinhood, shared how they disrupted the finance industry.
Tenev grew up in Bulgaria and moved to the states at an early age not even knowing how to speak English. He's the son of an economist who also had an entrepreneurial spirit. His dad owned a tourism business, and managed that on the side. Tenev, who wanted to be a physicist, started to move in the direction of finance after enrolling in a Ph.D program at UCLA in 2008, which was the same time the market crashed. It was also the same time the Occupy Wall Street movement was birthed. "We could tell that a lot of people had lost trust in the financial system. People thought it was rigged against them, especially in our age groups. We saw an opportunity to build a new brand in that space," he said.
And that is exactly what he did. With most of the users being in their late 20s, buying and selling stock through an app was easy and made sense for this generation. Getting them to trust again after the market crashed was something that didn't go unnoticed. "If you look at Robinhood and what we stand for and compare to the discount brokerages, which are all sort of variations of the same name, they have trade in the name. There is very little brand loyalty among our generation to those companies. We saw an opportunity to turn it on its head and really build a company that put the consumer first, and provide these tools that use to only be available to the wealthy," Tenev explained. "Rather than brick and mortar infrastructure, today's consumers look at things like customer reviews, the design and user experience of the product, whether what we are promising is what we deliver, and the benefit that our customers are a lot younger. The average Robinhood customers are in their late 20s. The stakes are not quite as high for them. A lot of them are first time investors," he continued. Tenev recalls his first time buying stock. He was just a teen. "It gave me the sense of ownership and connection to the company," he said.
Robinhood is a free app to use, which now offers a subscription for premium services at just $10 a month. How do free apps make money? Well, for Tenev it's a simple model. "What a lot of people don't understand about our space is that the majority of the revenue is the majority of revenue is generated not by commissions but by other sources. Revenue is driven by interest from margin, interest from customer credit balances, stock loan, and a bunch of things that roughly fall into the banking like category," he said.
Being able to generate revenue is key to landing venture capital. With most startups, it's not easy to get funding if you can't prove that your business is profitable. He admits to meeting with dozens of investors. What ultimately worked for him was the fact he had two previous businesses, one being a trading company, and that he knew the financial space well. "Getting investments is like rolling a snowball. It gets somewhat easier when you get a couple of them. You get your first two investors and you ask them if they know any other investors," he said. "We were lucky. Our first angel investor was someone we knew from New York, who is in the trading industry. They ended up moving to California the same time as us. We reconnected spontaneously and was able to get him involved," he continued.
Even with a little bit of luck, Tenev learned some valuable lessons from mistakes he made in those early days. "One thing that a lot of people associate with entrepreneurship, if you think about people in your head that are very successful, it's people that do a lot of things. They have a lot of things going on. I associated being successful with doing a lot of things simultaneously. If I had known that actually it is much more important to do as few things as possible and do them really well, it would have served me much better," Tenev said. Luckily, he was able to focus on an app that changed the way we trade stock.
For more information on how to easily buy and sell stock, log on to www.robinhood.com.