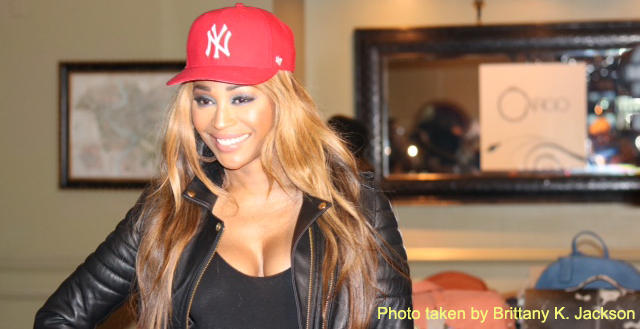 The serial entrepreneur, Cynthia Bailey, has just released a new line of luxury travel luggage, Cargo. The luxury goods are geared toward the busy lifestyle of the millennial and do it with style. It is designed for both women and men providing various styles from backpack to carrying bags to wristlets. Bailey chose the highest quality leather, mohair, and suede for her line. MillionaireMatch was on the scene as Bailey celebrated this new business endeavor in Hollywood at The Redbury Hotel. Her business partner, Kal Williams, and friend, Nene Leakes, were right by her side to support her. Other celebs such as actress and host of Hollywood Live Today, Garcelle Beauvais, attended the event to wish Bailey much success.
The supermodel and tv personality from Real Housewives of Atlanta, is no stranger to having multiple businesses. She also spends her time managing The Bailey Agency, an Atlanta based modeling agency as well as a high-end eyewear line called Cynthia Bailey Eyewear. "I love being an entrepreneur. I've always been an entrepreneur so starting this line was easy. I travel a lot and it just made sense," Bailey says on why she started Cargo.
The accessories line also just made its debut at The Beverly Center in Los Angeles. Locals can head to the chic and trendy store, Savage, to grab their favorite Cargo bag.
Working on a reality show, things can get pretty rocky with friendships and relationships. Bailey has had her fair share of hurt and disappointments on RHOA. If she had to choose one person from the show that would make her grab her Cargo bag and head for vacation, she says, "I would have to take two people. Half the trip would be with Nene and the other half would be with Kenya."
The Georgia peach seems to be enjoying her time in Los Angeles and is considering a move. "Right now, I'm enjoying the time apart, taking time for myself," she says on the recent separation from her husband Peter Thomas. In the meantime, Bailey is keeping herself busy promoting her line, attending celebrity events and making sure her daughter is happy.
If you are getting ready for your summer vacation, take it from us at MillionaireMatch, visit www.cargobycynthiabailey.com for your luxury travel bag needs.