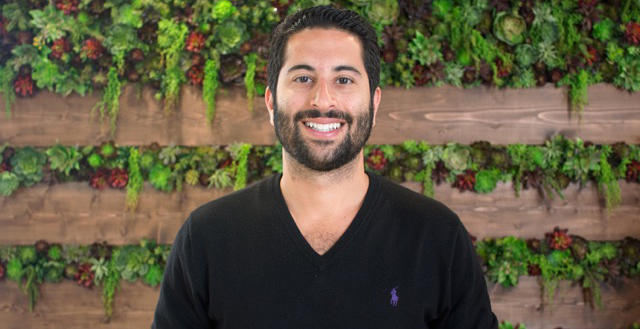 The floral industry is a $34 billion dollar retail business, and BloomNation is claiming a piece of that industry. Based in Santa Monica, BloomNation is a platform that allows local floral designers to operate online. Three friends decided to embark on an industry they knew nothing about in August of 2011. Farbod Shoraka, Co-Founder and CEO, Gregg Weisstein, Co-founder and COO, and David Daneshgar, Co-Founder and Head of Sales and Business Development, put their skills together to help local florists across the country. Each of them has a passion to give florists time to be an artist again as well as keep more money in their business, these friends soon found a creative way to earn their initial investment money. After having early success, they were able to acquire $1.65 million in seed funding to build a marketplace and e-commerce business in 2013. Two years later, the blooming company acquired another $5.5 million in funding from A Capital Partners. The team expanded from five to thirty employees with 2,000 florists on their site.
MillionaireMatch got a chance to speak with the busy CEO, Farbod. We had to know more about what made three gents jump into the floral business and how their passion has changed an industry.
MillionaireMatch: How did you get into the flower business?
Farbod: Funny enough I didn't really have a background in flowers or e-commerce. It was actually my aunt who was a local florist in Irvine, California. She was going out of business. She was having trouble with her flower shop and not getting any customers. She kept relying on these big brokers like 1-800- Flowers, FTD and Teleflora to get orders, but they were n't really coming in at a profitable rate. Those guys take so many fees off the top that it was really hard for her to make any money, and a lot of people have stopped walking into flower shops. She was in a really tight situation where she didn't know how to get her own orders from online. So, I was working in investment banking. I was doing mergers and acquisition advisory. I was actually helping a client in the floral space and I started learning a lot about it. I realized there was a big problem. I decided to quit my job and start this company that will kind of fix the floral industry, which is about a $30 billion dollar industry. Ultimately, I helped my aunt survive and keep her shop open.
MM: When did you decide to quit your job? A lot of entrepreneurs have that moment when they have a day job, and they want to take the leap into doing the thing they love full- time.
Farbod: I was working, because I was on a deal. The client I had at the time was in the industry. I was lucky. It gives me enough understanding and firepower to leave and just dive in head first into the start-up. Some people start off with getting their feet wet, and doing it at night. I was lucky enough to be able to do it all in. At the same time, I was making enough money where I could quit my job and not have to worry about supporting myself or taking that risk.
MM: I heard that your business partner, David, won $30,000 in a poker game to help get the company started. Was $30k enough to start BloomNation?
Farbod: That was really interesting. We didn't have the background to make this work. Three guys with no experience in technology, e-commerce or flowers should not start a flower company [Laughing]. It was a pretty rare instance where we took basically what we did have and leverage that knowledge and skill sets to make the company work. As I said, I was an investment banker. I understood how to talk to investors, put together presentations and think strategically about how to build a business and grow it. David was a commercial poker player and my best friend. We went to Berkeley together for undergrad. We leveraged his skill sets to raise enough money to hire our first engineer. It was just enough for us to hire somebody to get the ball rolling and get investors to invest in the company.
MM: Had you just made up in your mind that this was gonna work? Is that what kept you motivated?
Farbod: I think what's really important is you have to have an internal compass. There's something that has to drive you that's core to what you are doing. That can never change. The core thing for me was essentially knowing that these brokers shouldn't exist. No one should be going to an online broker that shows fake photos and fake prices as an order and take 15% off the top before it goes to the local florist. That's the old world. Today, we are in a new world where I can order a car to pick me up in two minutes or I can go on Yelp and see what restaurant I should eat at. That core, fundamental understanding that the flower industry needs innovation and technology that is happening in other parts of the country in terms of other sectors like that was my internal push knowing that this needs to exist now. It was up to me and in my hands to make it happen within BloomNation. I know for a fact that this is the way, the direction that the industry is going to move. That was what really drove me the most beyond anything was just knowing fundamentally what needs to happen for this to be a great industry.
MM: What was the most challenging part about starting this business?
Farbod: I guess the most challenging thing about starting the business was just starting the business, taking that leap. That's probably the biggest thing was that mental hurdle. Okay, I am gonna do this. Once that happened, you are kind of just running up and down the hill. It's kind of out of your hands because you are trying to make things work. It becomes your child, in fact. It's almost like having a kid. You don't think you are ready until you have that child. Then you just raise a child and become a father or a mother and all the instincts kick in. It's the same way starting a business. The hardest part of it is actually deciding that you want to start the business and doing it. Once it happens, you kind of become a survivor through all the ups and downs.
As the company grows, the biggest challenges are around your team- the people you hire and how to keep them motivated and excited. Always bring on top talent and make sure people hold a really good culture around what kind of company you want to build. It's very easy to hire people that change the culture if you don't have a strong culture. It can usually shift your culture and it becomes a very different company internally which also makes it a very different company externally. I don't think people appreciate enough how important it is the type of people you bring on to your team. They need to be hand-selected in the early days.
MM: I love that. What has set you apart from the other companies in regards to marketing and promotions?
Farbod: I think the big difference is, we don't spend money on marketing. Our products speak for themselves. Our biggest differentiator is that each florist is listing their own unique, creative design. It's almost like eBay or Etsy. Etsy is a great example because it's a marketing place for handcrafted artistic goods. You even get to see the florist you are buying from and the florist gets to see who is their customer. It's almost like walking into a flower shop.
MM: Kind of gives it that personal touch that everyone loves today.
Farbod: Yeah, it's an expression of your emotion. When you are sending flowers it is a very emotional point in time and you try to express your emotions through that gift. So, to be able to connect with the artist directly and help express that emotion is a very powerful thing. Our mission here is we are strengthening the communities, relationships and artistry. That's really important for us.
MM: Most start-ups don't survive past the first year. What would you say is your staying power?
Farbod: The biggest thing that keeps us growing and makes us successful is that we focus on the experience versus focusing on spending money on marketing. For us, it's how do you create a great experience for the florist so that they can create the best experience for the consumer. We empower the florist with technology. We say okay, now you can list your product. You can take a photo of the arrangement before it goes out for delivery so that the sender can see it. You create tools for the florist so that they can make the consumer really happy and that consumer keeps coming back. Then the florist stays with our platform because they see the consumer keeps coming back. It's a virtuous cycle that happens when you hone in on the experience and not on how you are gonna spend money on marketing.
MM: I really love that. How were you able to get florists interested in BloomNation?
Farbod: In the beginning, it was the three of us walking around the flower shops all over Los Angeles and getting a ton of parking tickets [Laughing]. We created a lot of one on one bonds with the florist. Showing our faces, shaking hands and making a lot of eye to eye contact was really important in those early days. Today, we do a lot of talking over the phone, telephonic sales and we hold some events across the country.
MM: If you were sending flowers to a girl that you really liked or your wife, what kind of flowers would you send?
Farbod: I think women like the most…so, this is really like LA typical thing. Women love peonies. They go crazy over the peonies and that's because it's such a rare flower. It's only in season for about a month out of the year. It's a very special flower when you get your hands on it. They open up so beautifully. It's really magical.
MM: They are so romantic. I love peonies.
Farbod: One of the most beautiful flowers.
Head over to www.bloomnation.com for more information on the company or your next order for that special moment.