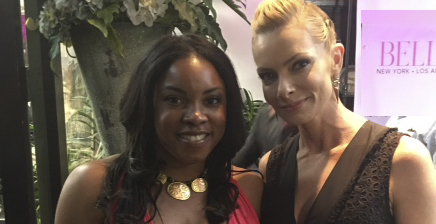 Bella Magazine's Beauty Issue cover party was hosted last week at Lisa Vanderpump's Sur Lounge by the Emmy award-winning actress, Jaime Pressly, who appears on the June cover. This was the first West Coast event for the New York-based magazine. Celebrities Allison Janney and Beth Hall who work with Pressly on the CBS show Mom, were in attendance to show their support. It didn't stop there. The venue was full of beautiful women and handsome gents who came to support Pressly, including Sophia Pierson (E! Wags), Gabrielle Dennis (Fox's Rosewood), Cynthia Bailey (Bravo's RHOA), Sasha Gradiva (Pop artist), Candace Patton (The Flash) and Kim Hawthorne (OWN's Greenleaf).
Pressly, who is from a small town in North Carolina, has been in the entertainment business for 25 years. She started her career as a model working for Teen Magazine, Liz Claiborne and Stuff Magazine. Pressly is most recognized for her role as Joy Turner on My Name is Earl which she was nominated for an Emmy and Golden Globe.
On the best beauty secrets, the women had lots of tips to share. Pressly says, "My trainer Mike. He's an ex-NFL player who doesn't entertain excuses," on how to snap back after having a child and staying fit. As far as beauty tips, she's pretty simple. The actress does her own hair and make-up before she goes on-set. Janney said she owes her youthful looks to dancing. "I love old-school hip-hop and dancing. That's my beauty secret," Janney said. Other celebs said it was more about happiness and positivity that keeps them looking beautiful. "Having the right energy around you is so important," said Tilda Del Toro. "It's more about what is on the inside that is important. Making sure you are a beautiful person on the inside. It's hard with social media. You can look on there and start to think bad thoughts about yourself, but social media can't show you the inside of a person," stated actress Elizabeth Guest.
Exercise was also on the list of ways to stay beautiful in Hollywood. "Eating healthy, drinking water and regular exercise is what I do stay looking great," says Darnell Cox who looks 22 years old even though she is 48 years old.
Pressly could have focused on it being her night, but she was most excited to see women in the industry supporting each other. "I love seeing women support other women. This is a tough industry. So this is really beautiful," Pressly said. The evening was filled with people connecting and talking over champagne with everyone leaving with beautiful gift bags by Naked Princess which were filled with blue and tan moleskin journals and luxury beauty products from the store's line. We at MillionaireMatch are happy to share this beautiful evening with some of Hollywood's best stars.