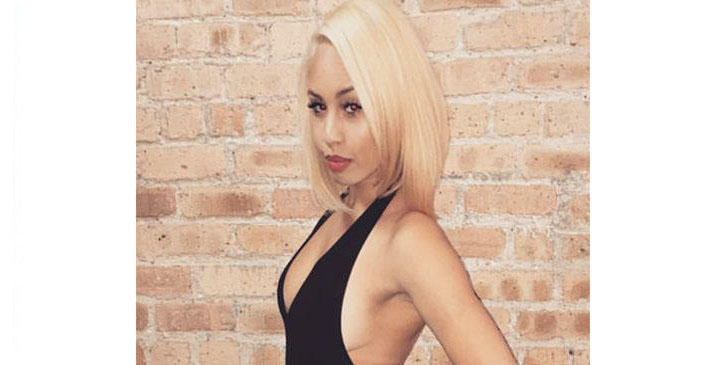 VH1's Black Ink Crew: Chicago is gearing up for Season 2 and we can't wait to see one of the show's stars, Katrina 'Kat Tat' Jackson back on the screen. Kat is only female tattoo artist at the shop 9Mag. Her artistic sought-after style has lead celebrities and athletes like Jamie Collins, Aldon Smith and Sergio Brown to her seat for an imprint.
MillionaireMatch was able to talk to Kat between fittings and photo shoots to promote the new season. The newly blonde star has also been busy planning for a fabulous 25th birthday celebration next month.
Since the first season, Kat has had some time to reflect and think. It's not easy living life in front of the camera. On what she has learned about herself since being on the show, "I have really big teeth," she laughs. "I didn't do anything out of character," disclosing her feelings on watching herself on the show. She describes herself as an introvert and very in-tuned to her emotions which keeps her from embarrassing situations. However, there was one moment we all can't forget. "When I called Ryan a bitch," Kat says. "Not a good moment. I gotta get better with that and my delivery," she continues. She admits that it wasn't the best way to handle the situation, "but it was the heat of the moment. I said how I felt. I said it with my chest."
Kat recalls another hard lesson learned. Dating on the job may not be the best idea. "It's messy, sloppy," she says referring to Don and Charmaine's relationship. "It's hard when you work with someone. It's not a good idea, unless it is something serious." Fortunately for her male fans, Kat is still on the market and says her ideal mate will be "very loyal, passionate, talented, focused and just as busy as I am."
The second season promises to show her brand growing. If given the chance, Kat would love to work with artists like A$AP Ferg or maybe on the hot television show, Empire. "If Jamal wants to get a tattoo on Empire, I need to be the one to do that," Kat says. She also has her dream list of clients which includes Nicki Minaj. "I don't know if Nicki Minaj wants any tattoos, but I love her. She's one of my biggest role models."
With excitement for the new season, we dug around for the scoop on what we can expect. We asked about her friendships and if they were still good since the first season. "I can't really say too much about that," Kat says. "It's a roller coaster with everybody," she says. She did guarantee that we would see a lot more cool tattoos, conflict, separation and some big named clients coming into 9Mag. Kat says, "You will be surprised."
The new season of Black Ink Crew: Chicago has yet to release a date that fans can tune in to the show. We hope it will be sooner than later.