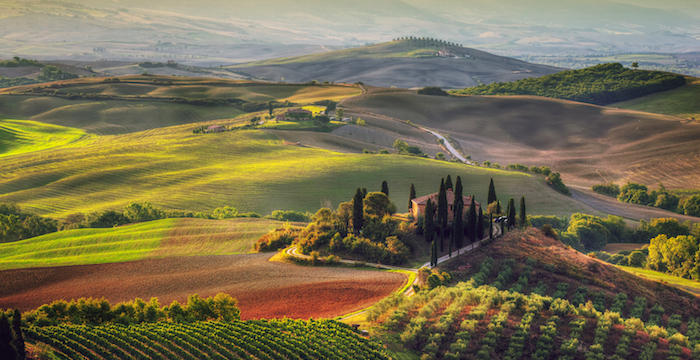 Italians have long had a history of consuming and producing their fair share of fine wines. From the luxurious bottles of Brunello di Montelcino to the inexpensive bottles of Chianti, the Italian region of Tuscany produces several predominantly red wines that are ever so pleasing to the palette.
Tuscany is Italy's third most planted region and yields primarily the Sangiovese grapes, with red wine accounting for over 80% of its wine production. Most of the production comes from the Chianti region that produces over 8 million cases of wine per year , while the Brunello di Montelcino region with its richer and more intense wines produces only about 333,000 cases annually.
The quality standards of all Italian wines are controlled and classified by the government. A DOCG classification (Denominazione di Origine Controllata e Garantita) is the highest standard guaranteeing the origin and blend, while DOC (Denominazione di Origine Controllata) is a less restrictive precursor to the DOCG designation. Currently 42 Tuscan wines are designated with either DOC or DOCG classifications, led by wines produced from the following regions:
Brunello di Montalcino Region
The Italian village of Montalcino located just south of the Chianti Classico zone is home to many vineyards that produce wines of deep color and full body from the Sangiovese grapes. The Sangiovese grapes of this particular region have been given the name Brunello to identify them from other varietals in the Sangiovese family and are known for ripening easily and favoring this warmer and drier region. Brunello di Montalcino wines are required to be aged at least 4-5 years before being released.
The wines produced from Angelo Gaja, especially from the Sugarille Vineyard, are all sure to please the most discriminating wine connoisseur. Another highly sought after label, Biondi-Santi Brunello di Montalcino Annata, is a terrific representative of this region, averaging around $150/bottle depending on the vintage. Carmignano Region
The red wines from the Camignano region of Tuscany have a rich history of quality that goes all the way back to the Middle Ages. Carmignano wines were the first in Tuscany to be permitted to use Cabernet Sauvignon and Cabernet Franc grapes in official DOC wines. This growing region was one of the first to produce a red wine from a blend of Cabernet Sauvignon and Sangiovese grapes that led to the "Super Tuscan" varieties that have become popular since the late 20th century.
There are many wines from this region that are relatively inexpensive. A nice bottle of 2004 Carmignano Piaggia Riserva with a 70% Sangiovese, 20% Cabernet and 10% Merlot blend, costs just under $40/bottle. Chianti Region
The central region of Tuscany is home to the Chianti zone that is split between two different DOCG regions, the Chianti zone and Chianti Classico zone. Chianti wines are permitted to have at least 75% Sangiovese, a maximum of up to 10% Caniaiolo, up to 10% of white and any other type of red grapes, typically Cabernet Sauvignon. The Chianti Classico region between Florence and Sienna produces the more desirable bottles of Chianti wine that utilize 80% Sangiovese grapes and currently disallow the use of white grapes.
Most of the Chianti labels are inexpensive, easily acquired and often designated as "table wines". A bottle of 2006 Castello di Querceto Chianti Classico Riserva il Picchio has consistent reviews and costs about $50/bottle. Vino Nobile di Montepulciano
The red wines of the Montepulciano region established their DOCG status in 1980, long after being a favorite of Tuscan nobility since the early 17th century. The Prugnolo Gentile variety of the Sangiovese grape is prominent in these wines, accounting for a minimum of 80% of each bottle of wine. The Canaiolo Nero and Mammolo grapes are traditionally added to the Prugnolo Gentile grapes to produce the wines form this region. There are many Montepulciano wines that are inexpensive, yet worthy of consideration. A nice bottle of 2009 Poliziano Vino Nobile de Montepulciano earns relatively high marks and only costs around $30-40/bottle. Super Tuscan and Other Tuscan Wines
The Super Tuscan wine movement was originally the result of a rebellion in sorts against the DOC restrictions in the Chianti region. When the consumer market for Chianti wines was suffering in the late 1960's and early 1970's, some winemakers started to create blends using the Sangiovese grape. One of the first bottles of Tignanello, produced by the marchese Piero Antinori was produced in 1978. Other Super Tuscan wines were "Bordeaux-blends", including Sassicaia produced by Tenuta San Guido which has now earned DOC classification as DOC Bolgheri. These blends, especially the Sassicaia produced by Tenuta San Guido have commanded higher prices and have garnered lots of respect from wine experts. Vin Santo is a dessert wine that is produced throughout Italy. The Tuscan varieties produced from blends of the Sangiovese grapes are highly regarded.
Vernaccia di San Gimignano is a white wine produced from the Vernaccia grape of the San Gimignano region. This dry white received DOC classification in 1966. Chardonnay, Pinot Blanc and Pinot Grigio wines are also produced in the Pomino region of Tuscany.