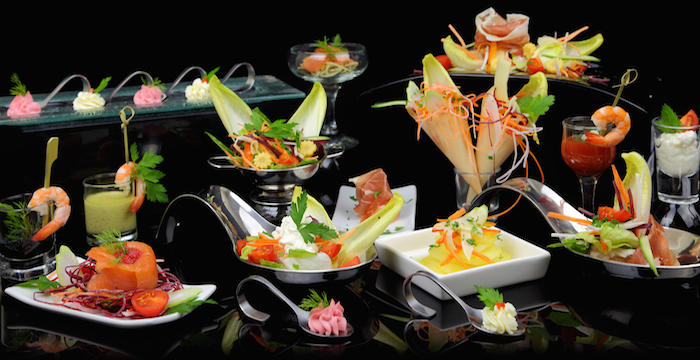 We treat ourselves to the finest cars, the most expensive jewelry, and premium property; so why shouldn't we spoil ourselves on the most delectable of indulgences ... luxury desserts!
No expense has been spared in the creation of these 5 treasures designed for the crème de la crème.
Serendipity 3's Golden Opulence Sundae and Frozen Haute Chocolate
Serendipity 3, located in New York, makes our list with not one, but two of the world's most luxury desserts. For a mere $1,000, you can treat yourself to the exclusive Golden Opulence Sundae. This frozen treat is made with five scoops of Tahitian vanilla bean ice cream infused with Madagascar vanilla and features edible 23-carat gold leaf, Amedei Porcelana and Chuao chocolate, exotic candied fruits from Paris, gold covered dragets, chocolate truffles, and is served with a small bowl of Grand Passion Caviar.
However, if you feel like truly treating yourself, Serendipity 3 also offers a decadent Frozen Haute Chocolate for the price of $25,000. The dessert is rich in both flavor and style, featuring 28 of the finest cocoas the world has to offer along with Le Madeline au Truffle shavings and five grams of edible 23-carat gold and served with a golden spoon decorated with white and chocolate diamonds. As if this wasn't lavish enough, the dessert is served encircled in a beautiful gold bracelet that can be worn home as a reminder of this sumptuous treat.
Fortress Resort's Stilt Fisherman Indulgence
In southern Sri Lanka, lies the luxurious Fortress Resort and Spa. There you can treat yourself to delectable Italian Cassata dessert at the Wine3 restaurant. Presentation is everything.. and for $14,500, you will be delighted with a beautiful cassata (a traditional Sicilian layered sponge cake) served with edible gold leaf, Irish cream, mango, pomegranate, and a champagne-based sabayon. Complimenting this little treasure is a miniature chocolate carving of a of a local stilt fisherman who is accompanied by a stunning 80-carat aquamarine stone.
Lindeth Howe Country House Pudding
No visit to England's Lake District would be complete without a visit to the Lindeth Howe Country House Hotel, where you can delight in the most luxurious $35,000 pudding. Designed to resemble a Faberge egg, this decadent treat is made with the finest chocolates, champagne jelly, caviar, and accentuated with gold leaf and a beautiful 2-carat white diamond.
Three Twins Ice Cream Sundae
Made with glacial ice from the magnificent Mount Kilimanjaro the organic ice cream of Three Twins is a treat in and of itself. Combine that with a first-class trip to Tanzania, a sizable donation to an African environmental non-profit, and a personal cellist performance and you have a luxury dessert adventure. The scrumptious banana split is served drizzled in the syrups of a 1960s vintage port, a Chateau D'Yquem, and a German Trockenbeerenausiese. More than just a dessert, for $60,000 this is an experience!