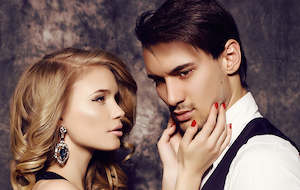 There are so many Hollywood couples that are together, apart and together again, that it's hard to keep up. We always know the whereabouts of the over-publicized couples like Kim and Kanye, Beyonce and Jay-Z, but we don't see enough of the up and coming celebrity couples who only crop up in the news now and then. So we have identified the top six couples we think are worth watching, as they are the ones who are changing the face of Hollywood.
Amy Adams and partner Darren Le Gallo (cover photo) make an adorable couple. Now that Ms. Adams has made her way to the A-list, it's likely the duo will become a strong force in upcoming project development. Amy has been fortunate to land roles in highly-acclaimed movies and has demonstrated a wide array of talents including singing. Handsome Le Gallo is known of his work in Date Night and The Big Bang Theory and is a strong talent who is on his way up.
More 2015 Celebrity Couples to Watch
The other couples we selected are those that are somewhat new to either their romance, babies or gaining more ground on the Hollywood walk of fame and fortune. Take a look at our picks and see what you
Jennifer Aniston and Justin Theroux
Finally, Jennifer gets another swing at a happy ending in her personal life. Professionally, her career has continued to excel and although she was overlooked for an Oscar nomination for her role in Cake, she is still flying high. After all, she is in love and after two fantastic years, her personal life is soaring to new heights. After a long engagement and disagreements over a prenuptial agreement, it looks like the couple is finally ready to tie the knot, according to reports. Although Justin does not have the Hollywood box-office draw that Brad Pitt does, he is a strong, loyal and talented performer. We see a long and happy future for the couple.
Channing Tatum and Jenna Dewan
Channing Tatum and his lovely wife Jenna Dewan met on the set of Step Up, a dance movie that brought in over $20 million during its first weekend opening. Channing started as a discovered model and parlayed the opportunity until he became one of Hollywood's hottest hunks. After a year of dating and romance, Channing asked Jenna to marry him when they were in Maui (2008). Jenna biggest role, at the moment, is being the mother to their child, after her recurring role of Freya in Witches of East End was cancelled. Recently, Tatum was named "Sexiest Man Alive" by People Magazine (2014) and his hit movie opportunities just keep coming. The couple is headed for great heights in the entertainment business.
Sofia Vergara and Joe Manganiello
Sofia Vergara has become a household name and sex icon. She is funny, gorgeous, sexy and well-loved by the entertainment community. Joe Manganiello is a tall drink of water and definitely fits the level of gorgeous that Vergara's beauty deserves. Together they are perfection personified and they are in love... and now engaged. Manganiello planned a romantic proposal that surprised Sofia when they were on a Hawaiian vacation. Looks like People's 2014 Hottest Bachelor is about ready to lose his title. This couple is absolutely on their way up - thriving careers, love-based marriage and amazing good looks that won't be fading anytime soon.
Emily Blunt and John Krasinski
Who would have guess that Ann Hathaway's hilarious co-star in the Devil Wears Prada, would end up as one of the most sought after actresses in Hollywood? Makes sense that Emily Blunt was called the Best Female Scene-Stealer by Entertainment Weekly that year. Husband, John Krasinski, has starred in numerous movies and television roles, such as The Office, License to Wed, The Holiday and It's Complicated. The couple met in 2008 and were married in 2010 and now have a daughter, who is almost one year old. Both Emily and John's careers are still on the rise, as they continue to become notable for their diverse acting skills. This couple has landed and is here to stay.
Ryan Reynolds and Blake Lively
Who would have thought that Gossip Girl's Blake Lively would nab fan-favorite, Ryan Reynolds? Their careers originally brought them together when they worked together on Green Lantern, but they went their separate ways. Lively was busy flitting and flirting with A-listers, like Leonardo DiCaprio, while Ryan was hobnobbing with the likes of Sandra Bullock while making The Proposal. Before we knew it, the two were dating again after Reynolds split with wife Scarlet Johansson. And now they are the proud parents of a baby girl, named Violet, who was born at the end of 2014. The couple is reported to be deliriously happy and by the looks of it, they are on their way to becoming one of Hollywood's young power couples.