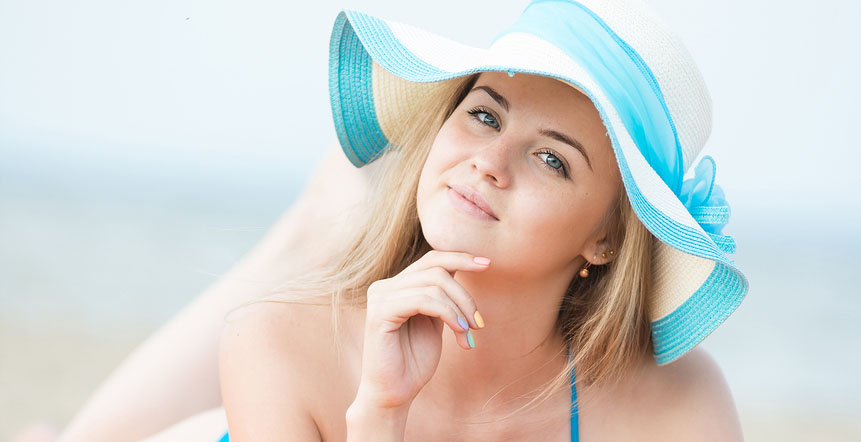 In recent years, bikini fashion has been barer than there. But this year, the hottest bikinis for summer are much more inventive and figure flattering. With bold colors and patterns and interesting cuts, everyone can find a style that looks fabulous. The options are plentiful and so varied, it makes sense to pick up a couple favorites to mix it up a little. On one day you can be a tigress wearing animal or tribal prints and the next day become a stunner in a demure mesh suit.
Another must-have for looking spectacular at your favorite resort is a delicate body chain. Some of the hottest celebrities, like Jennifer Aniston, have been seen sporting one. They are clearly the go-to accessory for the year. Wearing one with a bikini is sexy and they also make a great accent for sundresses and halter tops, as they are delicate and add that little extra something-something.
Over 30 new swimsuit styles were introduced at the 2015 Swimwear Show in Miami last year, so our fashion experts poured over photos for hours until they came up with their top five styles that will work for sun-worshiping women everywhere. Leave a comment about which hot bikinis are your favorites.
Mesh
This mesh-style one-piece actually looks like a bikini and is one of the sexiest styles for the summer. Plus, it is figure-flattering and provides stay-in power for any loose jiggles that are still hanging around from the winter months. Top it off with a flouncy hat, like in this photo and you'll be ready for any of the top resorts in the world.
Fringe
Fringe is another throwback from the past. Think Bo Derek in the movie "10" and you'll definitely want a fringe. In the contemporary versions, designers have added fringe just every which way. You'll find fringe on the bikini top, some on the bottom and the sexiest styles use fringe sparingly, but in all the right places. It gives a sort of peek-a-boo effect that men love. Plus, a little fringe to hide any figure flaws is a bonus.
Janet Jackson and Wissam Al Mana
Most men would be thrilled to marry, or even date, the youngest of the Jackson family. She has had financial success all of her life - mostly because of her extreme talent and beauty. When she met billionaire Wissam Al Mana and married him in 2012, it was surely not for his money. Wissam is a luxury brand representative for fashion lines such as Alexander McQueen and Hermes and Janet is still belting out hit tunes, so their net worth is always rising. At last count, the couple's net worth was estimated at $1.15 billion.
Animal and Tribel Prints
Animal prints are always in style, however not used much in past swimwear lines. This year, expect to see animal prints on the beach along with beautiful bold tribal prints that perfectly accent a tanned body deliciously. Beachgoers will see you coming and going, so beware of the animal magnetism these suits can create. This is resort wear -Tarzan and Jane style - we're guessing there will be a line of single men following by the time you sit down.
Midi Bandeau
The bandeau is another style that was popular in the past and now making a big comeback. It is flattering for all sizes but generally worn by those who are smaller on top, as it may reveal a bit too much for those with larger breasts. The style is sensual as it gives the impression that it may be easily removed or accidentally reveal what is underneath, so it is sure to be a hit with your male friends and dates. The midi bandeau comes in gorgeous prints and colors so the array of options will be plentiful. Definitely one of the hottest bikinis of the summer.