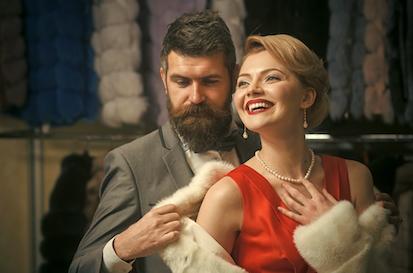 It seems like it should be easy. You have the money to travel the world, try the finest restaurants, go anywhere and do anything at a moment's notice. But the truth is, dating as a millionaire isn't how most people imagine it would be. You know the drill. You're often stressed with work, balancing a million things at once. People you meet out and about might be interested in you, or they might just be interested in what you have. Millionaire dating can feel like a minefield sometimes. That's why millionaire dating sites can be a godsend for your love life.
But the problem is, you need to find the right one. Not all millionaire dating sites are created equal. Some of them can make your dating life even more complicated — they don't understand the pace of your life, what you're looking for, and the worst offenders can even put your security at risk. Millionaire Match understands what you want out of a dating site and can help get in the easiest, fastest way. Here's why millionaire dating sites can be the perfect solution to your dating life — but what you need to watch out for.
The Right Site Can Connect You To Other People Like You
The life of a millionaire is a hectic, chaotic one — it's also exciting, action-packed, and luxurious. Explaining these two sides of your life to someone who isn't already familiar with them can be tough. High-quality dating sites like Millionaire Match will allow you to meet other people who already understand where you're coming from, whether because they're millionaires themselves or because they know the lifestyle. Dating sites that only allow verified millionaires and the people who understand how they live can save you from having to constantly explain yourself or introduce new people to your lifestyle. Instead, you can focus on getting to know each other and making a connection — right from the very beginning.
The Right Dating Site Protects You Against Sugar Babies
One of the hardest parts of being a millionaire dating is that there are people who are going to be interested in what you have, instead of who you are. There are a lot of millionaire dating sites that are dedicated solely to hooking up older wealthy people with younger people interested in their money — but is that what you really want? Millionaire Match strictly prohibits sugar daddy-sugar baby relationship. This means that you know every single person you meet is actually interested in you. That's something which can be hard to find on other millionaire dating sites or — even in the real world.
The Right Dating Site Keeps You Safe
While dating sites can be the right choice for many millionaires, you also want to make sure that security and privacy are a paramount. Data leaks are a nightmare for a millionaire — not just in terms of protecting their wealth, but in terms of keeping their contact details private. And, with hacks happening every day even with reputable companies, you want to know that the site you're working with has gone the extra mile to keep you safe. The right dating sites, like Millionaire Match, have intense verification checks and top-notch security to ensure that your data is safe. That way, you can rest easy and focus on meeting people. And, more than that, you know that everyone you're encountering on the site has been vetted and approved. In the real world, it's hard to know who you're really meeting.
The Right Dating Site Saves You Time
There's no doubt that you're busy. Whether you're a CEO, a lawyer, or just someone who's taken three months off to explore, you've got better things to do than trawl through thousands of profiles and have a lot of conversations going at once. That's Why the right millionaire dating site needs to be slick, efficient, and easy to use. Millionaire Match uses precise algorithms to find suitable matches according to member's preferences such as gender, age, location, height, body type, and more — and even allows GPS-enabled location services. You'll be finding the right people who are close to you — so there's no wasted time in your busy life and more focus on finding the right people for you. The right sites can get a sense of who you are and what you're looking for, for the ultimate luxury experience.
Dating apps and sites are not just a helpful resource for everyone, they can be particularly useful for millionaires. You can meet safe people in a protected environment, with efficient tools to help make dating easier. But remember, not all dating sites are created equal — so be sure to choose wisely.