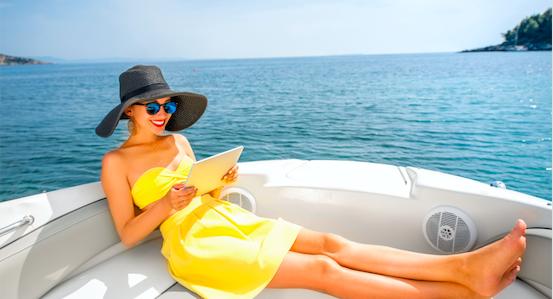 Luxury fashion is always changing — and it's not just the looks that continue to evolve. Although you can expect a new set of trends every season, there are also huge changes in the way that we shop and engage with luxury brands. The demand of luxury shoppers are, rightfully, very high and the top companies and fashion houses are coming up with more and more creative ways to meet them. From luxury fashion that shows up at your door in no time to virtually augmented mirrors that let you get a virtual reality version of what an outfit would look like with a different hairstyle, 2018 has been full of exciting changes and updates.
So, if you're a luxury shopper, how do these changes affect you? Well, you can start to expect more from your retail experience. Whether you want to buy online or visit your favorite upscale boutique, you should start to see things done a little differently. Here are the ways that luxury fashion is changing in 2018 — and what you can expect more of in the future.
Accessibility Has Gone Digital
One of the most convenient updates in luxury fashion is the digital shift. Not only has high fashion gone digital, with sites like Net-a-Porter continuing to deliver high-quality products, we're seeing more creative partnerships. When Farfetch teamed up with Gucci, to offer 90 minute or less delivery in certain cities, it was a clear sign that we're living in the future — and finding more ways to make luxury fashion accessible and convenient, for those who can afford it. Expect to keep seeing more online offerings, super-fast delivery, and new ways to get luxury fashion straight to your door.
Expect An Experience
If you do want to continue shopping at brick-and-mortar luxury stores, many of the top brands are now offering a total experience for their shoppers. Fred Segal wants you to find "an experience that isn't replicated anywhere else", with not only top fashion but music, food, and a place to hang out with your friends. Other companies are starting to use digital augmentation to let you visualize how an outfit would look with a different hairstyle or makeup look. Fashion is getting immersive, so you can start to expect a 360-degree experience every time you go shopping.
Personalization Continues To Flourish
More and more, people are using fashion to try to encapsulate their most authentic, unique selves. That no longer mean just finding a brand that represents your values, it means personalization. Bespoke shirts, made-on-order clothes like those of Misha Nonoo (check out her famous "husband" shirt worn by Meghan Markle), and tailored touches can make any outfit feel truly yours. If something isn't perfect — why should you settle? Luxury fashion is about finding something that's exactly right, rather than just OK.
Labels Aren't Everything
Especially among certain younger groups, conspicuous consumption is out. While through the 90s and the 00s big labels and luxury brand names ruled, many are now trending toward a more minimalist approach. Sure, you may be buying the best brands — but you don't need to thrust it in everyone's face. Sometimes, the real luxury is being able to afford a stunning piece of work that looks lovely, crisp, and clear, without being crowded by labels and logos. When you really have it, you don't need to show it off.
Green Grows And Grows
Caring about the environment has gone from alternative hippy to ultimate chic, so you continue to see top brands being interested in sustainability with a luxury twist. From the fabrics they're choosing, the manufacturing process, and even how they're packaged and delivered, customers know that they deserve a transparent, green process for the prices their paying. Look for brands who are putting sustainability first — and expect them to be upfront about their processes.
Unique Partnerships Create Works Of Art
While at one point fashion houses used to feel very boxed in and companies went through an almost adversarial process, the more modern trend is for collaborations and crossovers. And the pieces that are resulting from these mashups can be totally jaw-dropping. Louis Vuitton joined with Jeff Koons for some truly unique pieces that feel more like family heirlooms than your traditional fashion. Alexander Wang x Judith Leiber created clutches that you could drool over — and Dolce and Gabbana even paired with Smeg, a luxury appliance company. Keep an eye out for unusual crossovers and you'll never know what you'll find.
Luxury shopping used to mean having a glass of champagne as you browsed in Paris or on 5th Avenue, but now it's a completely different experience. From brand mashups that you should keep an eye out for to more sustainability and transparency in the process, as a luxury buyer you can start to expect more — so don't be afraid to ask for it.