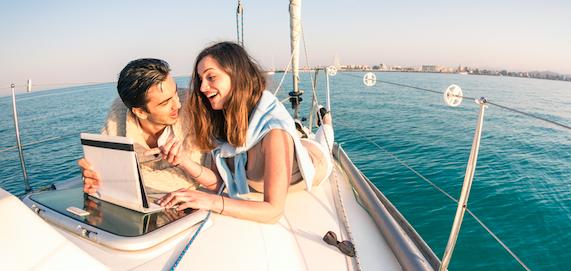 Some people might think that dating a millionaire means being treated to luxurious nights out every day of the week — private jets, expensive restaurants, and lavish gifts. And sometimes, it is that — but, in many ways, dating a millionaire is a lot like dating anybody else. It's a relationship between two people — there are fights, compromises, and nights where you both just need to relax. But if you have never dated a millionaire before, there are some things you should be aware of. Whether you're a millionaire yourself or you just happen to be dating one, here's what you should keep in mind.
If You're Not A Millionaire
If you're not a millionaire and you find yourself dating one for the first time, just know that it's normal to be nervous. It can be intimidating your first time. But just remember that it's still a date, just like any other — just because a millionaire doesn't mean you need to approach it any differently. Here's what you should know.
1.Treat Them How You Would Any Other Person
It doesn't matter if they're wearing an amazing suit or have jaw-dropping jewelry — just because they're a millionaire, doesn't mean that you should behave all that differently. They're still a person looking to make a real connection. So ask them questions — not just about their job, but about their friends, families, likes, dislikes. Make them feel heard and give yourself a chance to decide if you like them for them. You're trying to get to know the person, after all.
2. Don't Focus On Their Wealth
It's easy to be drawn in by the wealth of a millionaire. Maybe they've taken you to an amazing restaurant or you've seen photos of their great apartment — it's impressive. And it's OK to be impressed, but don't make money the whole focus of the date. Millionaires and successful individuals constantly have people trying to get something from them – a business deal, an investment, a gift. You don't want them to feel like you're just another person with their hand open. Sure, be impressed — and you can say that you are — but don't make the evening revolve around money. Find something else to talk about.
3. Don't Assume They Want To Take Charge
Millionaires are under a lot of pressure — they're often the heads of companies or have powerful jobs where they need to make dozens of decisions every day. Don't assume that they want to take the lead on the date. Feel out if they want you to organize and do some of them legwork or maybe, if they organize the first date, offer to do the second one. Even though they might be a millionaire, you want to give a sense of shared responsibility, right from the beginning.
If You Are A Millionaire
If you're a millionaire dating another millionaire, it can be a great experience — but there are also can be a bit of a power play. Two demanding jobs, two people used to being in charge — there's a new dynamic that it may be difficult to navigate, at least at first. But, when done right, it can make a great relationship. Here's what you need to know.
1. Get Ready For A Shift In Dynamic
If you're a millionaire used to dating non-millionaires, there's a good chance you're used to having the upper hand, in one way or another. Your job comes first, your decisions take priority. But with two millionaires, it's different. And it can be great to have to make room for someone else's priorities in your life — in fact, it can be incredibly healthy. But just take a deep breath and don't assume that you'll be the alpha.
2. Try Not To Talk Shop
Sure, you're both used to living a fast-paced life with high-powered jobs — and that's something that can bring you together. But try not to always talk about work. You need to get to know this person as a person, so make sure to talk about personal lives, aspirations, families – everything you would normally talk about on a date.
3. Have Fun With It
If you're both millionaires, then the sky's the limit. Take turns planning extravagant dates for each other, travel, surprise one another — try to keep things fun. You're both under a lot of pressure at work, so dating should feel more like a vacation and less like an interview.
Whether you're a millionaire or not, dating a millionaire can have its challenges. But, at the end of the day, no matter how much money you have you're just two people who want to be relax, connect, and form a lasting bond. That's what it's all about.