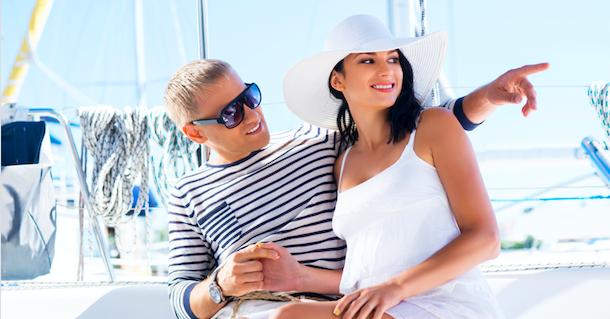 When it comes to the life of luxury, things don't stay the same. The must-have items from one year are old news the next — and the way that we're spending our money is changing. If you want to show the man or woman you're interested in that they're worth it, it may be time to rent them a private yacht instead of buying them flashy jewelry. What we value changes over time — and that means the luxury trends change with them.
That's why in 2018, we're seeing trends toward experiences rather than products — and towards philanthropy and green living. Being a millionaire in 2018 means being socially and culturally aware. But when it does come to buying goods, it's all about tech and customizations — finding products that work for you, to make your life easier.
Here are the biggest luxury trends of 2018, because when you've got the money to spend, you want to spend it in the right way.
Experiences
While some of the biggest luxury goods will always retain their status — those Louis Vuitton luggage pieces aren't going anywhere — more and more, millionaires and high earners are investing in experiences rather than brands. From a helicopter ride to dinner at a private island to renting out an entire spa for a loved one, experiences are the new gifts — and the possibilities are endless.
Giving Back
Giving back can come in a lot of different forms. It may be about giving to a cause close to your heart — or just helping out the people you love. Don't forget, just six months ago George Clooney gave each of his closest friends a million dollars in cold, hard cash. And many of the world's richest people regularly give back to philanthropic efforts. Giving money back, rather than showing it off, is a true statement of wealth. It shows that you're so comfortable with your own lifestyle that you don't need to be flashy with it. When you are spending money, spending more to ensure that your purchases are sustainable and green is what 2018 is all about.
Lifestyle And Athletics
Being healthy is in. And for millionaires, that doesn't mean grabbing an old t-shirt and heading to the gym. From top designer collaborations in the world of fitness and fashion to coordinating outfits that can take you from brunch to the gym, workout wardrobes need to be on point. And speaking of gyms, there's no need to sweat it out at your local club. Luxury gyms are all the rage this year — some of them providing unlimited personal training, limited membership numbers, bespoke meal plans, and more. It's like a personal sanctuary, mixed with a killer workout.
On top of all this, don't forget the fuel. We're still spending big on juices, protein-heavy organic meals, recovery shakes, and anything else that is going to keep us feeling great and looking even better.
AI And Tech
Siri is so old school. In 2018, we're really seeing our virtual assistants and tech reaching new heights — from a $999 gold robot vacuum to speaker systems that are almost too subtle to be real. And of course, smartwatches and wearables aren't going anywhere — but more and more, they're about keeping you healthy, as well as connected. Remember, the best tech actually steps in to make your life easier, so think about an amazing new indoor security system that connects to your phone — and skip the Juicero.
Coffee
Sure, coffee sounds like a basic commodity rather than a luxury — but it all depends on how you do it. Artisan coffee and bespoke coffee makers have been on the rise and in 2018 we're seeing peak coffee. From single-source, exotic beans to at home systems that will give you the ultimate brew, expect to spend in the thousands if you want the perfect cup. It's something you have every day — so isn't it worth investing in?
Bespoke Everything
One of the best things about having the income and wealth to do what you want is being able to customize your products and your lifestyle to work for you. You don't need to get an off-the-shelf perfume or cologne, you can have one designed for you. The latest smartwatch can give you updates to push you into your cardio zone for the exact number of minutes you choose. Shoes made to your feet, monograms — all of your favorite custom and bespoke trends are reaching their height in 2018. Because sometimes off-the-shelf just doesn't cut it.
Mindfulness
Sometimes, the biggest luxury is unplugging. More and more, high earners and the wealthy are spending money to get away from it all. Having a tech-free getaway, going on a mindfulness retreat, or just some time on a private beach — spending money on your well-being has never been more important.
How you spend your money is up to you, but as you can see the trends are moving away from spending for the sake of it. Luxury living in 2018 is all about spending smarter, giving back, and finding gear and technology that makes your life better.