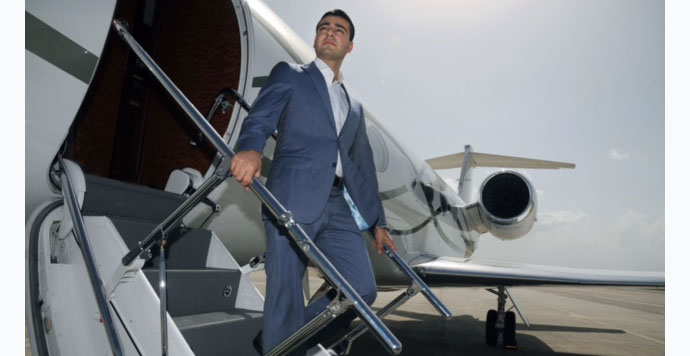 If you are a busy professional that travels a lot for work, you just may need to ditch your commercial flights and book a private jet. Labeled as the Uber of jet travel, JetSmarter has built a platform that allows you to grab a seat on a jet with a few taps on your phone. Sergey Petrossov, CEO of JetSmarter, came up with the idea after a few frustrating moments of booking his own private travel. The company is now sporting a valuation of $1.5 billion with the help of investors such as Jay-Z and the Saudi Royal Family. MillionaireMatch got the scoop on how they plan to take over the traveling industry.
Petrossov, who is based in Florida, flies often for work. With offices in London, Zurich and Dubai, it was important to be able to pick-up and go without a hassle. The first customers who tried the app booking service were Petrossov's friends who soon gave their approval. He released a beta version of the JetSmarter app in August of 2012. By March 2013, JetSmarter officially launched and offered over 3,000 planes that could be booked within minutes.
Having sold a previous IT company, Petrossov is no stranger to the startup world and creating a profitable model. For those who can splurge on a membership with JetSmarter, you can pay up to 70% less for a seat through using the app. Petrossov wants to make the service open to everyone. "We are not just trying to serve the one percent," he said. "The airport experience just isn't there any more," proclaiming his thoughts that everyone soon will be opting for private travel over big commercial airlines. With the core demographic being 20 to 50 year olds, this may be achievable.
"You don't have to go through that archaic process and waiting on the phone," Petrossov said. The membership includes a 24/7 concierge, as well as access to exclusive events. "You can go in the app, book it and pay for it. You can communicate with a certified aviation expert directly through the app. It's an A to Z service. It really allows people to bring this industry to a digital world," he added. These are a few more things that set JetSmarter apart. Those special perks have helped Petrossov to attract celebrity endorsements from major names including Christina Milian and Jenny McCarthy.
So far, the business has been lucrative for Petrossov. Before JetSmarter, carriers would send empty legs from city to city. "Carriers use our platform to put hours on their planes," he said. The app also connects to a GPS feed to provide all flights with empty seats in real time.
With holiday travel in the air, JetSmarter sounds like a great way to make a good trip great. If you are looking to add some fabulousity to your travel plans, get more information at www.jetsmarter.com or download the app.