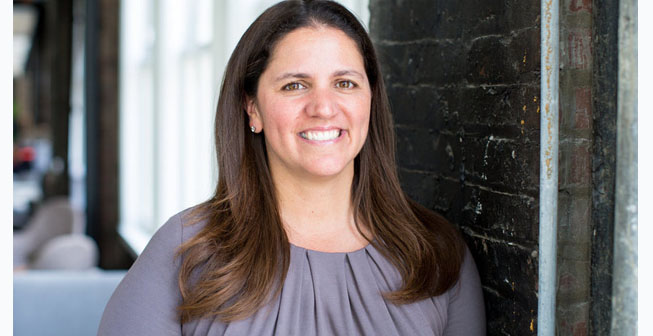 Do you miss the days when people could go to their next door neighbor to borrow a cup of flour? Maybe you miss the community gatherings from time to time. Well, you have to try Nextdoor. It's a private social network that allows you to connect with your neighbors. Co-founded by Sarah Leary, the app has connected people in over 139,000 neighborhoods across the country. Nextdoor came as a result of a previous failed app. A decision to make a pivot has lead Leary and her team to success. MillionaireMatch got the scoop, and how going in a different direction was the best decision.
Leary had the idea of creating Fanbase, the largest online almanac for college and pro sports fans in 2008. It seemed promising as they obtained 15 million unique visitors in just a few months. Leary and her team worked on the platform for two years, but after just six months they realized they would need to make a pivot. "Pivoting sounds great. The actual pivoting sucks," said Leary about making the decision. Her and the team even offered to just give the money back to the https://www.millionairematch.com/articles/2680/1/francois-henry-bennahmias-ceo-of-audemars-piguet-luxury-is-true-emotions-it-s-not-something-you-need, fortunately they didn't take it.
"We built something that was nice to have, but it wasn't a must have," Leary admitted. This was one of a few mistakes made. "We wanted to create something that was a painkiller, not a vitamin," she said. Before creating Nextdoor, Leary made sure that it was a need not just a want. They did a survey to ask people if they wanted to know more about what was going on in their neighborhood, and seventy-eight percent said yes. They dug deeper and asked about their interest level in having a network to communicate with neighbors. All information was verified that it was something that was truly needed in communities.
But that wasn't enough. Leary took it another step, and set up coffee meetings to connect with communities. She even did a test run with a neighborhood in Menlo Park to get feedback. They took one full year to test Nextdoor in twenty-six states. This helped answer one question that Leary was left with, "Will neighbors actually have something to talk about?" They most certainly did.
In 2011, they officially launched Nextdoor. Leary chose an interesting marketing plan. She leaned on city officials and police departments to get the word out. Leary even reached out to the local press in these neighborhoods that the app served. "It made sense for Nextdoor," she explained. On just the local level, over three thousand stories are generated about Nextdoor yearly.
As a former associate at one of the largest VC firms and with a failed product, Leary had some advice for younger entrepreneurs. "Make sure it's a big market you are going after, and know how you are going to win," she continued. If you are looking for a investor, make sure your team is tight. While at Greylock Partners, she noticed that it was more about the people when they came in to pitch. They noticed the dynamic of the management team. "An investor will sometime bet on a team and an idea. The idea can end up changing, but they are still invested in the team," Leary said. "They need to feel like this team is going to be able to manage the ups and downs, twists and turns if it doesn't work out," she added.
Nextdoor has launched in other countries such as the Netherlands, and it continues to grow. Leary is proud to have created a product that reminds her of how she grew up. "We've become a real lifeline in neighborhoods," said Leary.
If you want to connect with your community, go to www.nextdoor.com and tell your neighbors to join too!