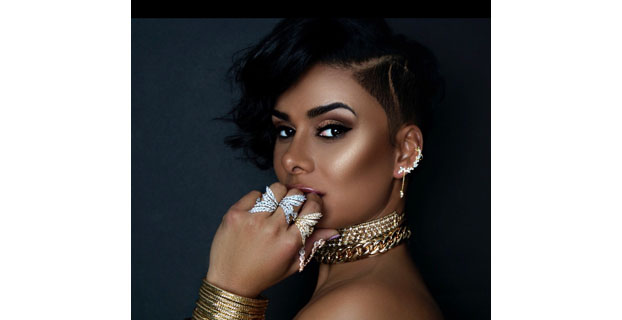 Television star and now entrepreneur, Laura Govan is on top with an upcoming book and new business. Govan's luxury accessory collection, Shop in Real Life, is not just a business for her. It's proof that she can do anything. We got to chat with this beauty and former star of Basketball Housewives about her journey to writing Don't Get Mad. Get Sexy. We also got the scoop about her upcoming episode on the hit show Millionaire Matchmaker in which she explains her desire to get married again.
MM: Have you always been an entrepreneur?
Laura: Well, I've always had a job since I was about 14 years old. Whether it was babysitting in the neighborhood or working for my dad, I always had a job. Becoming an entrepreneur was just the next step. Also, I feel like I had to at this point in my life. I had not worked in a really long time, because I was raising my kids. The situation with my ex came about. So, I had to refocus and figure out how to make money. I've always been destined to do something for myself.
MM: How was the transition from being a full-time stay at home mom to a mom who is an entrepreneur?
Laura: You know, I just had to make time and effort. I work when my kids are in school, and when they go to bed. You have to have scheduling, and it has to make sense. I don't spread myself too thin anymore. I don't say yes to everything anymore. If I can, I can. If I can't, I won't. For the most part I work around my kid's schedules. That's how the balance comes.
MM: What inspired the name of your company, Shop in Real Life?
Laura: I have a real life. I live in my own real life. It's not so much about being foo foo or having a life that people think I live or what you see. That's not always the case. I cry. I bleed. I'm a mom and I don't always get it right. I'm not perfect, and that's not what's portrayed or shown. My life is real. I walk in the house, and my kids don't give a damn about where I've been or who've I been with. When I walk in the house my kids are like, where is the food?
MM: Did being on Basketball Wives help you create your brand and launch your business?
Laura: There's not many people who can do it without branding themselves on social media. It didn't really reflect who I was 1000%. It reflected who I was at the time, but not really branded. It's a gift and a curse.
MM: What is something you have learned about yourself in the last few years, since the divorce?
Laura: That I can do anything. I didn't know then when I got separated after 16 years. I hadn't paid bills in a long time. I had not done a lot of things in a really long time, but I believed in myself. There's a lot I had to do on my own. I had to create this life as a single mom with my kids, and figure it out. People think I have a millionaire baby daddy, but that millionaire man doesn't help me like that. I had to dig deep. I turned my entire life around by myself. It has made me feel amazing. Now, I can tell my kids, "How you think you are going to give up? I didn't." It's a story to tell and I'm appreciative of that story.
MM: What's coming up next for you?
Laura: I wrote a book and it comes out at the end of the year. It's called Don't Get Mad. Get Sexy.
MM: Wow. How long have you worked on the book?
Laura: It took me about a year. Most people ask me how did I do it? You were in a relationship for 16 years, and he had a baby on you. The separation was very open. All I wanted to do was protect my children. Don't Get Mad. Get Sexy. really isn't about him. I wasn't mad at him. I was moreso like what is my next move. That was the question to myself. My biggest thing was that I wasn't going to get mad. I wasn't mad at him or myself. I'm just going to get sexy. Not in the sense of go show your breasts or something. I was going to get sexy in every way. Work on my mind. Work on me internally. All of my sexiness oozes out in the way I carry myself or speak.
MM: Was it hard to revisit some of those tough moments?
Laura: No, things like that are my therapy. I utilize it as a tool to get it out and tap into my emotions. It's therapy.
MM: Would you get married again?
Laura: Oh gosh yes! And I want to have more kids. I'm going to have more kids. I'm going to get married, and I can't wait.
MM: What makes you unafraid to get married again?
Laura: Who am I to deny myself of love and that butterfly feeling. God just closed one door. Another has to open and I'm going to open it. I just believe that why should I stop my life yearning for a feeling I know I deserve. I'm not meant to be by myself. I can't wait until my husband finds me. I love love. I'm not bitter. I mean, at first I was like who are these people. I was walking around all angry. But Laura Govan loves love. Laura Govan loves being pregnant. Laura Govan loves to make love. Why would I deny myself of an experience that taught me how to do those things better?
MM: You sound so grounded. What would you say to a woman who is in a place of recreating her life? Laura: The conversation I had with myself was, 'okay Lord, now what? Where do I go from here?' I literally wrote down on a piece of paper that I wanted to be an entrepreneur. Then I had to decide what it meant to be an entrepreneur. Did I just want to be a mom and show a great example of living life and who am I? And teach my kids there are phases to life, but the only thing guaranteed in life is death. No matter what you go through in life, it's not going to be perfect you just have to live.
You can check out Govan's luxurious line at www.shopinreallife.com. Be on the look out for her book release at the end of this year.