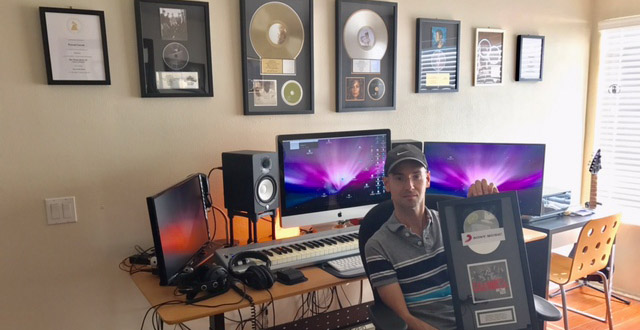 The saying goes that your network indicates your networth. Pascal Guyon of Hyperloop Transportation Technologies knows this all too well. Hyperloop Transportation Technologies, also known as HTT, is a transportation company inspired by famous entrepreneur, Elon Musk. HTT promises to save you time by cutting down travel time between popular cities using high speed, low pressure train tubes. Guyon, a music producer, spoke to MillionaireMatch about networking his way up and working with HTT. HTT has raised over $100 million including in-kind investments and services rendered.
"I like to say I'm a creator. I like to create things," Guyon said about his life as an artist. Guyon, who is French, has always loved music. That love for music led him to become Head of Audio for HTT. Guyon has worked with some of Hollywood's finest including Walter Afanasieff, who wrote the song Hero, which was sung by Mariah Carey. Guyon also worked with the hip hop artist Heavy D, which lead him to receive two Grammy nominations. How does a guy who loves music, but lives in the French countryside, finds his way to Hollywood? Network. Network. Network.
Guyon started to build awareness for himself at a time when many music artists were on MySpace. Guyon would post videos, and reach out to people introducing them to his skills and passion for music. "If people see you have a clear brand, message, and following that already triggers admiration," Guyon said. "You need to create original content on social media that's going to grab people's attention," he continued. Soon enough, he was being asked to work with some famous talent. After being flown to Los Angeles, and asked to work with some major players in Hollywood, Guyon knew he couldn't go back to his quiet countryside.
Already with some great connections, Guyon made a goal to meet even more people. He was intentional about improving his environment and making new friends. MillionaireMatch asked Guyon for a few tips for those looking to network up. He offered, "The big mistake that most people do is they act needy. That's a huge mistake. However, if you provide value that changes everything. Do your homework. Become an expert in something, so that you interest somebody else. Those who always need help will find that those who are busy are not going to look at you." Guyon continued, "Find what you love, what you are passionate about. Work on it. Become an authority in that. Busy people are going to look at you in a different way, and potentially trigger business opportunities."
After meeting new people and being introduced to some decision makers, HTT's Dirks Alhborn asked him to head up all audio for the project. "This is something I really talk about with artist nowadays. A lot of them are stuck in the mindset that they want to make their songs, they want to get signed and have a great life. It doesn't work that way anymore," Guyon said about creating a business out of your passion. He knew from his early years that you have to create different lanes of business when it comes to being an artist. Guyon had no problem coming on board to HTT. "This is one of the most talked about technology projects," he said.
The company has grown to almost 500 people. HTT is planning to build a five-mile demonstration track. The tube is estimated to reach a top speed of 800 miles per hour. For more information on HTT, visit http://hyperloop.global. You can keep track of Guyon at pascalguyon.org.