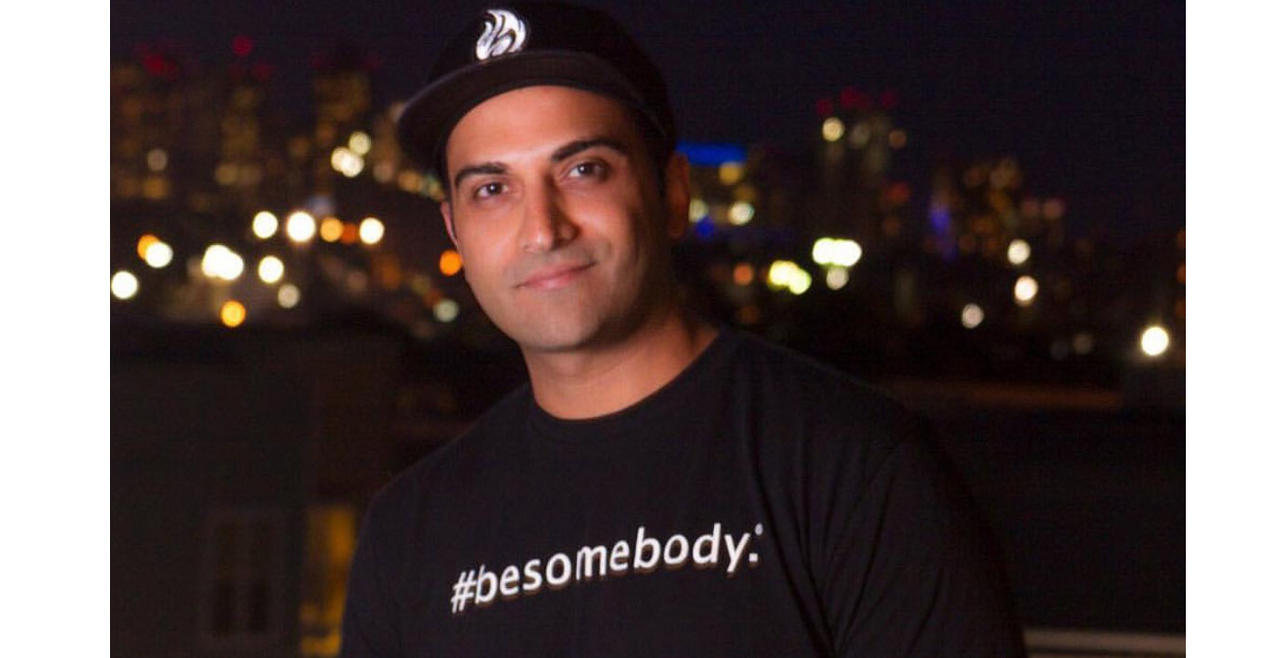 It's a new year, and you may have already started working on those new business plans. You have claimed that this will be the year you open up shop and launch your dream job. But some get stuck right at the thought of leaving their nice salaried positions to go all in on being an entrepreneur, not knowing if they will find an investor. MillionaireMatch got the chance to talk to Kash Shaikh, CEO of the inspirational brand #Besomebody. He gave us the scoop on taking the leap from a 10-year position at Procter and Gamble to getting up every day to inspire millions of people around the world.
Shaikh, who was recently on the hit show Shark Tank, got his first round of seed funding with just an idea. In June of 2014, Shaikh received $1 million in funding after presenting his idea via PowerPoint to investors. We are sure it was his passion to help others live the life they want that convinced the hearts of venture capitalists. But, before he boldly took on the journey of entrepreneurship, Shaikh was working for a major corporation like most entrepreneurs.
Right after graduating from the University of Texas, Shaikh landed a position in marketing at Procter and Gamble. All was well, but upon his 7th year there he began to feel the urge to do something else. Luckily, a new position was created just for him which allowed him to travel to 43 countries. During those travels, he was touched by many people striving to create a life they always dreamed of. He began to share those encounters with people over social media using the hashtag, Be somebody. It was a term that he and his friend would use to create some kind of call to action, whether it be going hard at the gym or having the guts to approach a beautiful woman at the bar.
After leaving P&G, Shaikh went to lead social marketing at GoPro. "The biggest thing I learned at GoPro was the camera was the least important part of the ecosystem. I learned that the content and the community was what was building that brand," Shaikh said. He took what he learned at GoPro, and applied it to #Besomebody. People began to catch on. "I started diversifying and expanding the content I was creating. I went from writing to videos to inspirational cards. I started doing meetups every time I would travel. It really started to grow," Shaikh explained. Today, they have a readership of 10 million.
There are a lot of bloggers, and content creators working to build an audience, and possibly make money they can live off of. Shaikh was able to understand early on what was needed to go from side hustle to dream job. "If you can't monetize your passion, you're always going to be doing it on the nights and weekends," he said. "Being open, real, vulnerable, really connect with people," Shaikh explained on what attracts an audience. "Whenever I was the most nervous to hit publish on a blog post that's how I would know it would do well," he continued. But he admits, it wasn't all strategy. "I wasn't trying to change the world, I was trying to help myself," he said.
After getting clear on his purpose, Shaikh decided to leave GoPro, and put all his attention on his new company. He was the first person to quit the company, leaving 75% of his stock on the table. "The irony of purpose has nothing to do with you. You weren't born to do something for you. You were born to do something for others and for the world," Shaikh explained why it was time to go. "As soon as you start to focus your heart, mind, soul, and passion the universe starts to open up doors and unlock windows you never thought possible. What do you love? What do you enjoy doing? You gotta go do different things. You gotta go experience different things," he said. And so he did, bootstrapping an 18-month trip around the world that included speaking to over 200 schools.
His advice to those taking the leap this year, "You have to fight through the struggle, and suffering before you get to success," he said. "Trust in your vision," he added.
Since launching in 2014, Shaikh has made a pivot with the company and will be launching Learning Paths on January 11th. Learning Paths will connect big employers looking to hire, job seekers, and instructors who will teach courses for job seekers to gain the skills they need to land the job they want. It's a vocational marketplace that Shaikh describes as a "destination for people to live their passion."