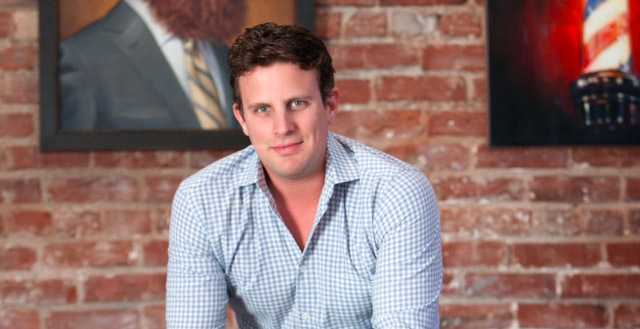 More and more entrepreneurs are creating subscription-based businesses, but none have disrupted an industry quite like the Dollar Shave Club created by Michael Dubin. If you happen to be one of the few people on earth that don't know about the Dollar Shave Club, it is a subscription-based service that delivers grooming products to your home. Dubin, who was in his 30s when he launched the business, was working as a freelance marketing consultant when he was approached by a friend who had an inventory of unused razors in a warehouse. Pulling his marketing, improve, and entertainment experience together, Dubin created a marketing video to explain his concept, which went viral That video became his marketing tool to his first round of funding at $1 million. MillionaireMatch got the scoop on how a former NBC page and waiter started a billion dollar business.
"It's a blessing to do what you love. I always did what I loved. I always followed my heart and chose careers, jobs, or divisions in companies where I was gonna learn the most, have the most responsibility. All of those experiences lead up to the success you see," said Dubin. Today, Dubin has 200 employees and 3 million members of the Dollar Shave Club. But during his first year in the beta phase, his business only boasted about a thousand members. That didn't keep him from pushing and creating video content to get more visibility. "We use humor as a tool. A lot of companies use humor because it makes whatever you are doing more enjoyable," he said. "I use the video as a fundraising device," he continued.
Using the skills he had acquired from previous jobs was the best thing Dubin could do. "I never raised a dollar of venture capital before, and I needed help. I had one friend that was a venture capitalist that gave me a bit of advice," Dubin explained. "I think the key to raising money first has a good idea. Is your idea presentable? Meaning can you get the idea across quickly and concisely? Are you good at presenting it? Then there's the whole thing of presenting. It's a skill you have to master. Keep the first pitch really short, and leave them wanting more," Dubin shared. After raising $163 million in five rounds of funding, Dubin seems to know exactly what works. He admits, at the beginning when he was living in a garage, he would walk around and attend events with his pitch deck in hand trying to steal a moment with potential investors. He advises entrepreneurs that once they get a meeting, "Move quickly through it. Do n't dwell too long. The best points are simple points." Dubin also added to take 30 minutes out of an hour to get your precise, concise pitch across and leave the rest for questions.
On being a CEO and leader of his business, Dubin is clear on the culture he wants to maintain for the Dollar Shave Club. "I think I'm good at knowing what I am good at and not, which is key. The things you aren't good at, with open arms welcome other people into the fold and let them help you build your business because you can't do it all," he shared honestly. "I think the best ideas are ones you collaborate," he added. He's turned off by any sense of his team being territorial about their work and ideas. "Building your team is the most important thing you will do as the entrepreneur, as the CEO of the company," he said. "Hire people that aren't like you," Dubin added. His team works in and comes from different parts of the country, all bringing a different perspective and ideas. For Dubin, this is the sweet spot.
Dubin also shared his thoughts on creating a brand, a word many entrepreneurs throw around. "Not everybody needs a brand," he said. He explained that companies like Uber don't necessarily need to be a brand. The product gains awareness just from word of mouth due to its function. "If you want to build a brand, you have to do more than just copying somebody else. Whether it's to create confusion or not, you have to strike out with an original idea," Dubin added.
He doesn't leave out the strengths that he brings to his team, which are just as important. "I love bringing things to life and watching people enjoy what we bring to life. That can be a television commercial, a video, a physical product, or digital products. I love the creative process," he said. "At the end of the day, I'm a creative professional. I think I"m a really good communicator of ideas." We couldn't agree with him more. The Dollar Shave Club was acquired earlier this year by Unilever for $1 billion in cash. Not bad for a guy who used to live in a garage.