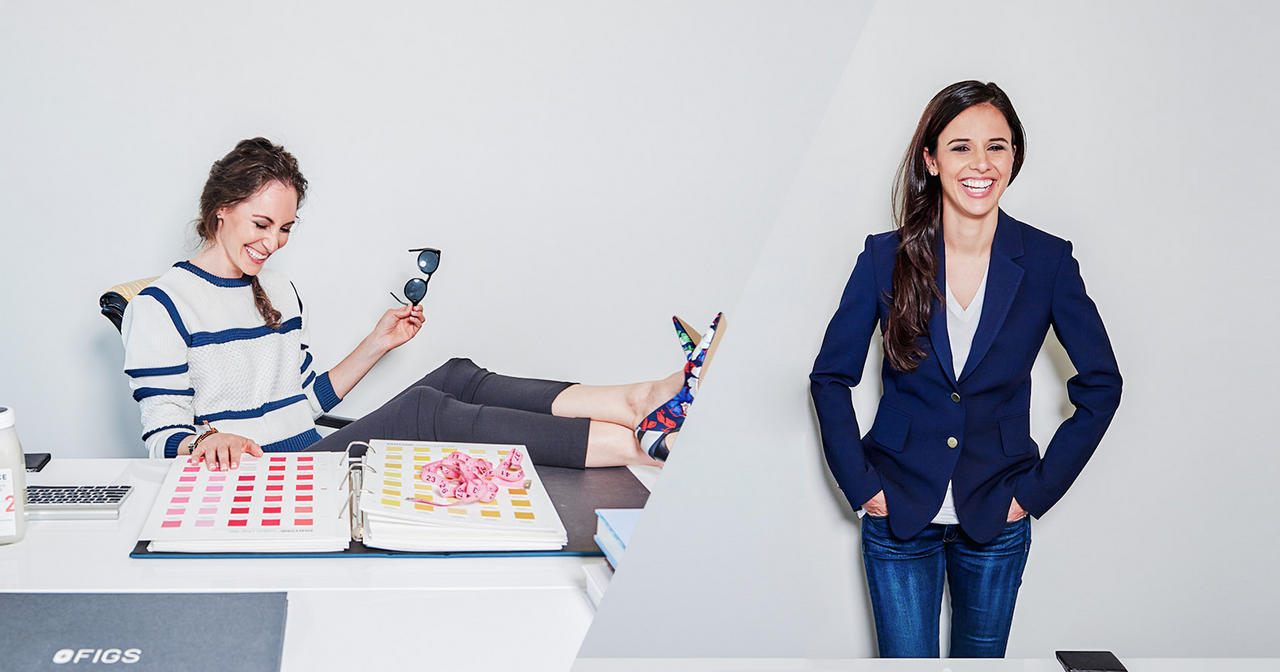 Heather Hasson set out to simply help a friend. That one decision to help someone led her to start FIGS, a line of scrubs that offer comfort and style for health professionals. In May, Hasson, and co-founder, Trina Spears, landed $5 million in series A funding led by Campfire Capital. MillionaireMatch got the scoop on how Hasson went from helping a friend to launching a booming business.
Everyone is used to seeing scrubs on healthcare professionals. Some may have a print design, but none have a polished and tailored look like FIGS. "Together with my co-founder Trina, we created FIGS to disrupt the tired and traditional medical apparel industry. We wanted to bring professionalism, enthusiasm, and innovation to the field where it had been missing the most. More importantly, we wanted to help the healthcare professional perform at their peak and focus on what really matters most…the medicine," Hasson said. Hasson created FIGS out of a response to a need after a friend of hers, who is a nurse practitioner, came to her out of frustration. Her friend was tired of the boxy, baggy scrubs that she normally wore. The scrubs she wore lacked functionality and modern details that would help with her daily demands. Hasson felt like medical professionals deserved better for all the work that they do.
Hasson created custom scrubs for her friend and soon other medical professionals were contacting her to create scrubs for them. When Hasson realized that this was an opportunity to disrupt a forgotten industry, she contacted her best friend, Spears.
Hasson and Spears met through mutual friends. They hit it off over a game of tennis. Hasson admitted that Spears smashed her in a match, and she knew she would make a great partner for the business. "We have very complementary skill sets with my background in fashion and marketing and her background in operations and finance," Hasson explained.
Not only is Hasson from the fashion industry but once upon a time she was studying to enter the medical field. Hasson was pre-med at the University of Wisconsin, where she remembers having to wear poorly made scrubs. Ten years later on a trip to Northern Kenya, Hasson decided to visit a few clinics. What she found were healthcare professionals wearing dirty clothes and scrubs. With a salary of $5k a year, the nurses and doctors were unable to have clean scrubs to wear. Hasson decided to donate 2500 sets to the clinics. Just having clean clothes and scrubs reduces infection when operating.
Hasson continues to give back. "We operate in a vast outdated market that has not had any innovation for the past 100 years. We bring a fresh concept from a product and distribution standpoint to a very stale industry and investors saw that. Not only that, they appreciated that we are a purpose-driven brand with a real mission. Through our threads for threads initiative, for every set of scrubs sold, we give a set to a healthcare provider in need. Many healthcare professionals in these areas do not have access to basic tools and technology we take for granted here in the U.S., including clean scrubs, driving up hospital-acquired infection rates. We have donated over 90,000 sets of scrubs in 26 countries," Hasson said.
More and more companies are attaching social awareness and advocacy for their brand. This is hopefully not a trend, but something we can see for years to come.
For more information or to shop for a new set of scrubs (you don't to be a medical professional to enjoy the comfort), visit www.wearfigs.com .