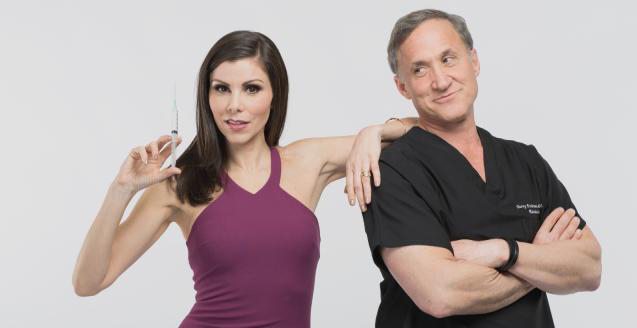 Botched is one of the most watched shows on Sunday night with Dr. Terry Dubrow and Dr. Paul Nassif coming to the rescue. They have fixed every plastic surgery disaster imaginable. Now, Terry has a new partner in crime. Well, sort of. Terry and his wife Heather, who you can see on another popular show, Housewives of Orange County, decided to sit down and pen a book to answer all your questions about plastic surgery, aging, and beauty treatments. Their new book, Dr. and Mrs. Guinea Pig Present the Only Guide You'll Need to the Best Anti-Aging Treatments, will also be available in audio with a little extra commentary from both Terry and Heather.
MillionaireMatch was happy to get the scoop on which treatments do and don't work. From what we hear, many treatments are a waste of money. "He actually believes nothing works, and I believe everything works. I want too," Heather said about her husband's skepticism. "Terry didn't even believe cold medicine worked," she joked. The beauty industry is a multi-million dollar industry, but only 15% of the products and services actually work. This was the reason both Terry and Heather wanted to write the book. They wanted to help others make better decisions before investing money or going under the knife for the next big craze. Heather explained, "We are teaching you how to read the ingredients and be a savvy consumer."
The show Botched has brought on many people who were seeking corrective plastic surgery. It's also exposed lots of methods that have huge promises but fail. On what was the craziest thing the two tried, "The leeches." Terry explained, "The truth is it totally hurts." Terry had been telling patients for some time that using blood-sucking leeches would not hurt due to using local anesthetics. After giving it a try himself, he had a total mind change. "It's incredibly unpleasant," he said.
In Hollywood, the popular treatments may get you Kylie Jenner's lips or a back-end like J Lo. Another popular procedure is Botox. Terry gave us his thoughts on starting young on these lunch-time office treatments. Terry sides on starting great skin care in your 20s. If you know it's hereditary to have lines, then Botox will prevent that from happening as you get older. "If you want to look your best for the rest of your life, start a skincare program now [in your 20s]," he said.
Heather and Terry shared their thoughts on one other popular gimmick, cold sculpting or as some call it, fat freezing. On whether this was a good investment, Terry said it depends on several factors such as age, fat levels, and type of skin. The procedure may work on 10% out of the 100% that try it.
Before you book your procedure, Heather said, "You have to know what the risks are." Terry tried the cold sculpting on himself and experienced the painful downsides of the procedure, which we all get to see on this season of Botched. "Plastic surgery is dangerous. If you do it, you have to understand the risks, benefits like all of the other treatments in here. You have to know what you are getting yourself into. Make sure you are a good candidate to minimize your risks," said Terry.
You can find their new book at any popular bookstore or online. We can't wait for the new season of Botched!