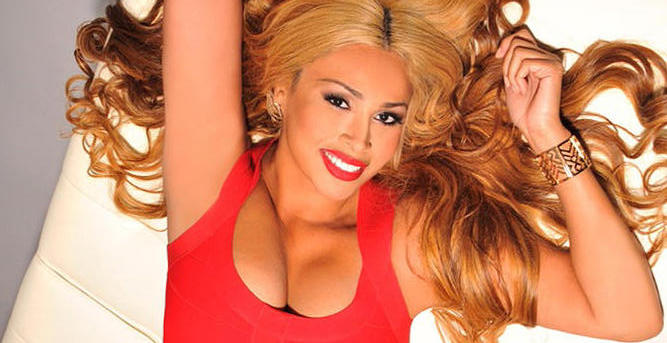 Somaya Reece's beautiful face first reached our television screens when she joined the cast of Love and Hip Hop, New York. After season 2, Reece decided to leave and since then hasn't stopped climbing the ladder of success.
The fierce Latina took time to do some soul searching, get fit, and start a new business. The best of all her new endeavors was finding love. Reece talked to MillionaireMatch about all of it and how she was able to open her heart up to the possibilities of a new love.
We first had to know what the secret was from going from size 18 to a size 6. After experiencing many yo-yo diets and being disappointed, "I ate clean and exercised," she said. Reece added, "I basically starved myself to be skinny. I fainted during a video shoot in DR due to taking diet pills, diuretics. I fainted in the water." This was a wake-up call for her. The abuse she placed on her body to stay thin was hurting her health. After her doctor said to her, "Your body and heart won't survive this abuse," she decided to take action.
It wasn't easy, but she took small steps. Reece said she was too embarrassed to go to the gym. She decided to start walking 10 minutes every day until she got up to an hour. In addition, she fell in love with making smoothies. She loved creating smoothies so much, she wrote an ebook, 5 Day Smoothie Slimdown, which has delicious and healthy smoothie recipes like Chocolate Banana Cake.
Reece decided to take her commitment to be healthy a step forward. She was approached by a company to promote detox tea. The company representatives "were very arrogant. They also tried to low-ball me with compensation, " she said. Without actually trying the product, Reece just didn't feel right promoting it. She wanted it to be a good product for herself as well as her fans. She eventually turned the company down, which no longer exists, and started her own company with a little push from a friend who was encouraged by her weight loss. So, she decided to turn to her sister who had been using a family tea detox for years. She gathered all the recipes and launched Get Slim Detox Tea.
With over 140k followers on Instagram, the tea has been a success, but Reece has always been a hard worker. Her dating life on the other hand definitely needed a little work. "I was blocking it. I was working hard all the time, and blocking having a relationship," Reece said. "I had been single for two years and enjoying it. I kinda got used to being single. I had to learn balance," she added. "It wasn't easy for me to learn to be vulnerable," she continued.
Reece recently was seen on E!'s Famously Single tackling her dating life or lack thereof. She shared with the world about her previous abusive relationship. During her two years of not dating, she took the time to work on herself. "I did a lot of soul-searching," she said. "I needed to find my equal. I realized how wrong some people were for me," she added. Well, that break and the show lead her into the arms of her current partner, someone she met 7 years ago. "It wasn't the right time back then, but it's the right time now," she said. We asked Reece what was the secret to her healthy, successful love relationship. "Communication is totally key," she answered.
What's next on the horizon for Somaya Reece? New music produced by her girlfriend, Lady Luck, will be coming soon. She is also working on a new show she couldn't tell us much about, but it will hit our television screens in January. Her health company, This Fits Me, is adding another product called My Red Carpet Plan for those who need to drop weight in a week the healthy way, and she is continuing to write new books about her life, mental health, and how to start a company and be successful. If that isn't enough of Reece, you will also be able to download her upcoming Emoji App. We can't wait!