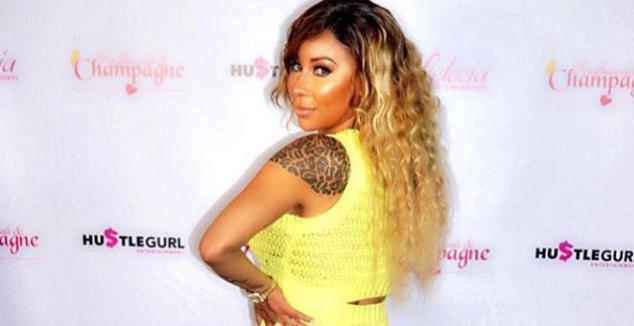 The weekend is full of festivities with awards season in full swing. Vanessa Simmons, daughter of Rev. Run of Run D.M.C and niece of Russell Simmons, hosted an event for the ladies to enjoy. The Girlfriends and Champagne Spa Party was held at the beautiful Castaway restaurant in Burbank, California. Hazel-E, who co-hosted the event, was joined by Elise Neal, Meghan James, Brandi Maxiell, Kamie Crawford, and Zena Foster. MillionaireMatch was there to enjoy the festivities while getting the scoop on what's happening with these Hollywood beauties.
Simmons expressed the importance of holding events that empower women. The entrepreneur, who has started fashion lines and was a judge on Project Runway, says she is passionate about seeing women work together and excel in business. Simmons was also very excited to talk about family. "My brother just had a baby and I am so excited about that as well as my sister [Angela Simmons] will be having a son," she said.
Hazel-E lit up the room in a beautiful canary dress and a smile. She snapped photos and chatted with her girlfriends, reality star Meghan James and actress Lamiya Good. Good spoke on what she thought made a good girlfriend, "Loyalty and someone who will not gossip about you," she said. Good has been touring with the hit stage show, Married But Single, which will be having it's second run sometime in August. She discussed how hard stage work was compared to being in front of a camera, but she has been loving every minute of working as a theater actress. Well took a two-year hiatus from the industry, so getting used to a grueling rehearsal schedule was anything but easy. She looks forward to landing her next gig on the small screen doing sitcoms.
Elise, who was the star of the show Hollywood Divas, talked about what it means to be a good girlfriend. "One you can get your advice from and they really have your best interest at heart. Someone you can have fun with. Someone you can cry with. Someone you can giggle with," she says. The actress will not be returning for the second season of Hollywood Divas. On not returning to the show Neal says, "The owner of TV One, Cathy Hughes, asked me to do it [the show] and to get it greenlit and that's exactly what I did. I had fun. I enjoyed different avenues. That's what I enjoyed from it." Neal recently wrapped on Wolverine 3. The 50-year actress doesn't look a day over 30 years old with a body that recently broke the internet when a photo of her wearing a bikini was released. "There's no secret. You have to take that hour and get in the gym. That's what you have to do," Neal said on staying summer ready.
Guests enjoyed the best pampering and delicious bites and, of course, champagne. Free massages, make-up application, nails, delicious desserts and a little shopping were all available. Thanks to Hustle Gurl Entertainment for putting together a day of relaxation and girlfriend fun.