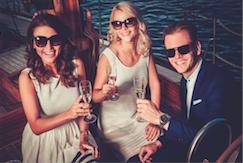 MillionaireMatch: Boston Singles
If you've been keeping up with the ever-changing housing market, you know that you have to be financially successful to live in Boston, Massachusetts. And, while it might cost you a pretty penny to live there, you're guaranteed to meet tons of equally successful Boston singles, and you'll never run out of fun things to do in New England's claim to fame.
Dating can be hard, but for Bostonians there is never a dull moment in the best city to grace the Northeastern shores. Whether you're going out for a great meal or simply strolling the historic streets rich with classic architecture, the Boston dating scene will peak your interest anywhere you decide to go. But, to ensure you find the perfect partner, there's MillionaireMatch.com. Partaking in the likes of millionaire dating, you'll find the most compatible, successful and attractive counterparts to help make your life complete. Our millionaire singles are ready to find true love, and Boston is the perfect city to strike up a lasting romance.
Dating in Boston
Boston is home to some of the more passionate sports fans in the country, so taking your date to a life-changing game at Fenway Park is a given. The Red Sox are a beacon of hope for Boston natives, and going to a ballgame you'll feel the exuberance that brings Bostonians together. There's a reason why so many use sports arenas as the setting to their memorable marriage proposals: catching a homer, singing "Take Me Out to the Ballgame," or even smooching for the Kiss Cam on the Jumbo-Tron can bring you and your date together in a way you never knew it could. Sharing the love of a sports team can help break the ice on a first date and even keep you together for the long haul. And in Boston, sporting events are a big deal.
You're not a Sox fan, you say? Well, there are tons of other great outings to share in this fun-filled city. You can't think of Boston and not think of fabulous food, particularly in the city's North End. The North End offers a variety of dining options, including Boston's famed, Italian cuisine. If you're looking for classic Italian dishes, you'll want to take your date to Mamma Maria. Here, you'll enjoy old-school cooking and classic décor that might just spark a good ole Italian love affair. While The North End provides a wealth of Italy's finest, you can't forget the most important part of any dinner date, dessert! Since you're already in The North End, you can walk to some of its infamous pastry shops for the perfect treat to seal the end of your evening with the kiss that will tell you everything you need to know. So, head over to Mike's Pastry for the cannoli that will change your life!
If you're not much of a foodie, you might have some luck in the ever-familiar Faneuil Hall. Although you might think it's just a tourist trap, some of the best places in Boston are filled with both visitors and locals alike. Faneuil Hall is the perfect place to spend a cool, crisp Boston day, get to know the other person and just take in the local scenery. With shopping, dining, and sports memorabilia galore they'll be tons of interesting things to talk about and do.
MillionaireMatch Dating
Boston is the perfect place to meet your other half because love is always in the air. The streets are filled with beautiful brownstones, romantic restaurants, and mom and pop shops that create a homie, yet culturally-stimulating setting to kindle life-long relationships with successful partners who want the same things you do. At MillionaireMatch, we link you with attractive, financially accomplished singles just like yourself, based on your personal profile. You can verify income and identity on our dating app, designed to help you take some of the guess work out of finding the one. With MillionaireMatch, you can be sure that your matches won't be after you just for your money. We ensure that all of our singles are financially stable on their own and are looking for a successful counterpart who is their equal or better, so you'll share more of the same life goals and interests, making for a more compatible partnership.
Using our Millionaire Chat in Boston, you can talk with your matches and find common ground before even setting foot in a restaurant. Our Boston Chat feature makes it easier to break the ice on a first date and just click with a potential partner. There are more than enough singles in Boston for you to choose from, with almost 70 percent of its population being unattached and the male to female ratio being almost split in half. You can find the majority of singles in Boston itself, and in surrounding cities Cambridge and Somerville. Most singles in the greater Boston area are between the ages of 18 and 29, so your odds of finding a young, affluent partner with a zest for life are almost guaranteed in this city. While living in Boston alone increases your odds of finding your best match, let us make it even easier by hand selecting the best of Boston just for you. Join MillionaireMatch today, and start your journey to success in love.