The quote is wrong, it's 17.2 trillion. "I'm allowed a piece of it"? Does that mean that I am being forced to be paying for it and my children's children and beyond will also be paying for it? Or is the quote supposed to mean I am entitled to get a free ride because why not, so many others are doing it, why shouldn't I? Very confusing ,with wrong numbers, quote. IT ALL MATTERS!!!
Sangria please!
AMERICA'S DEBT
Where's the debt ceiling now?
By Jeanne Sahadi @CNNMoney February 12, 2014: 4:13 PM ET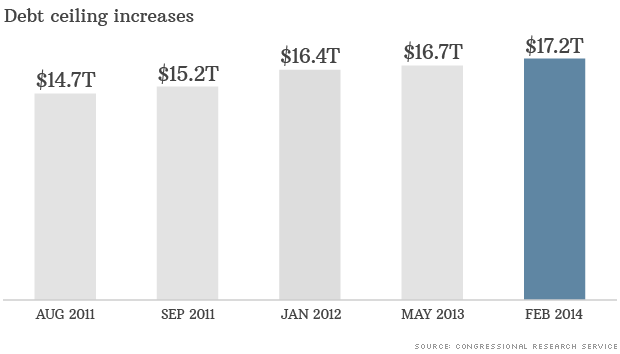 NEW YORK (CNNMoney)
Lawmakers have decided to suspend the debt ceiling again -- this time, at a level that's now about $512 billion higher than it was last fall.
On Tuesday, the Treasury Department reported that the nation's borrowing limit automatically reset to roughly $17.2 trillion, after the last suspension expired on Frida